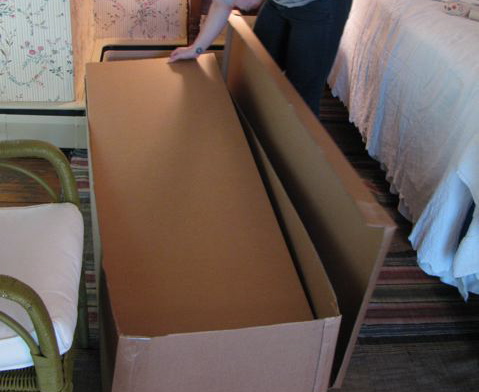 One thing I learned in graduate school was that a dress is never finished until you have a way to hang it, (meaning: don't forget the hanger tapes).  In Leah's case, we needed more than just a way to hang it, but a way to safely transport it all the way from Hillsborough, North Carolina to the wedding near Rochester, NY.  Preserving the shape of the dress as much as possible, helps to keep the dress looking it's best on 'the big day', and eliminates a lot of last minute pressing and steaming.

Leah took advantage of my 'wedding day dressing service', (since it was so far away she paid for my and my husband's transportation and accommodations to/from and in NY) and put us in charge of transporting the dress.  Therefore, my talented husband/business manager custom-built a box that fit not only both pieces of Leah's ensemble perfectly, but the back seat of our truck as well.
It ended up being a masterful bi-level cardboard box that allowed the dress and the jacket to stay in separate compartments while being stuffed with tissue to retain the shape and wrapped in muslin to be kept completely clean.
It worked perfectly and was a great way to transport such an important package half-way across country.
When we got to the wedding site, everyone was already a-buzz with excitement about the custom dress, but there were almost as many excited rumors about the box.   Since the groom and other friends and family had not seen the dress, and had only seen the box, it added to the great mystery of what was inside!!  Everyone wanted to know what exactly was in the now-famous box!