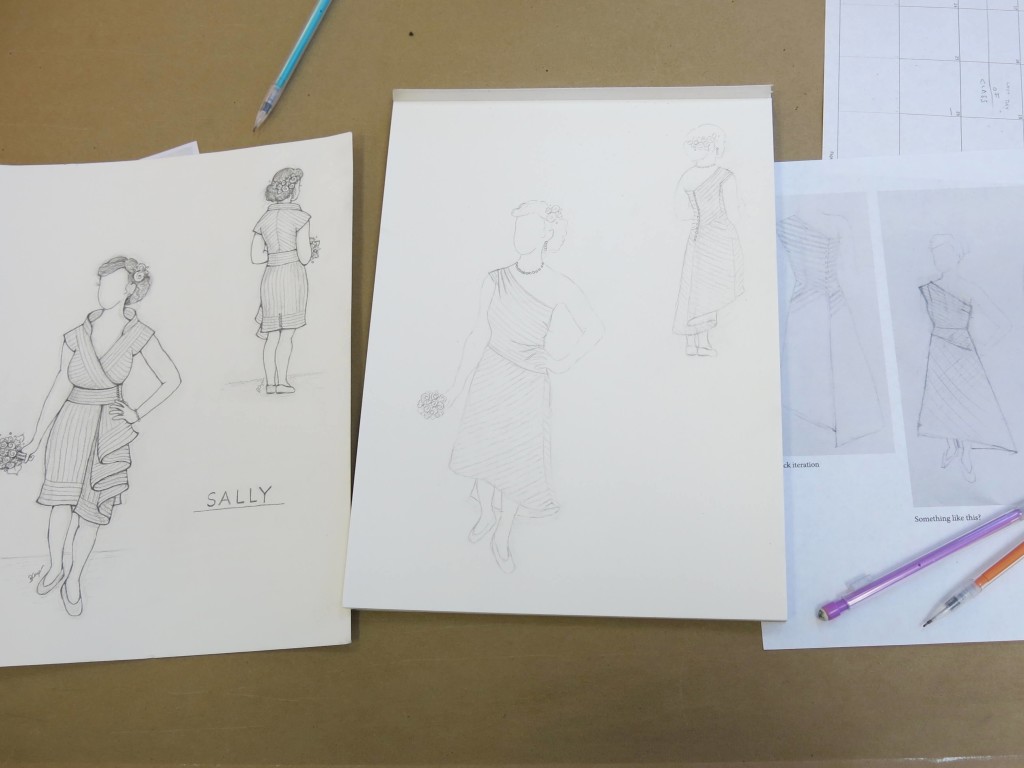 After I sent bride-to-be Sally her Design Proposal featuring the ideas, inspirations, and custom sketch I shared in my previous blog post, I couldn't wait to hear her thoughts.
Sally's response: She loved it! It was everything she asked for! But seeing exactly what she asked for inspired her to change her mind about the design…
A change of heart
Sally admitted that she had been trying to "rebel against the bride thing" never really liking to be the center of attention. Working with me made her realize that she actually DID want a more "bride-y look" than she had originally thought. Our design process helped her to visualize herself as a bride for the first time and helped her decide how she wanted to look and feel on her wedding day.
In thinking about a redesign, Sally still wanted stripes. She loved the wrap style that I drew and the bridal buttons I added to the original sketch. Using these ideas as her inspirations, my bride did some sketching of her own!
How cool is this?!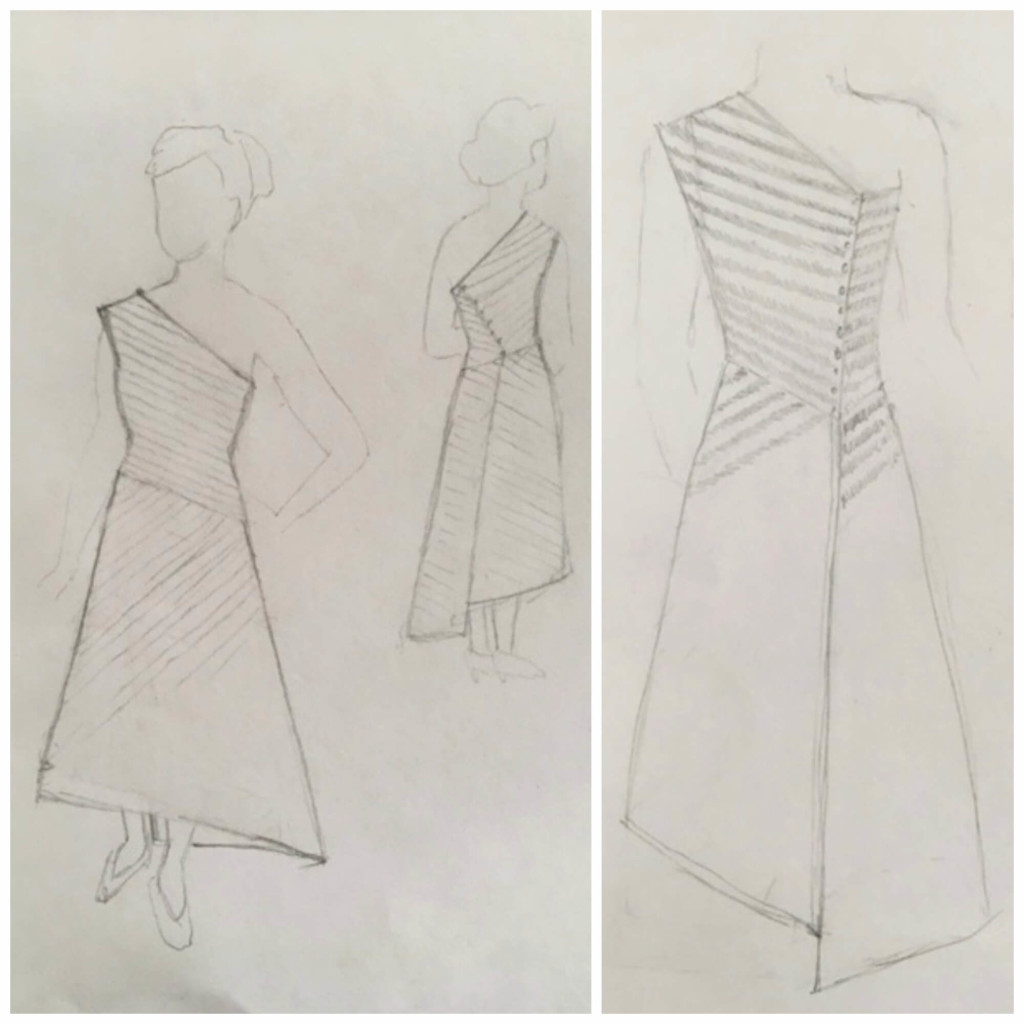 I love the collaborative process and I loved Sally's new ideas!
Working with the bride's sketches
As I sketch a dress that I intend to create, I like to figure out its construction plan (kinda sorta). Before I could agree to create the dress in Sally's sketch, I needed to make sure it would be possible for me to make.
Since this was a fairly minimal design involving stripes and asymmetry, I needed to figure out how the pattern pieces might work together. It's easy to draw stripes and shapes that look great on flat paper, but how would they look once the fabric was shaped closely to Sally's body?
Sally has a gorgeous figure and I wanted to be able to follow her curves. Keeping the stripes in a continuous line the way Sally drew them, would rule out many common shaping techniques such as princess seams and/or most darts. I did some quick tests with fabric on a dress form to see how the shaping might work with minimal seams.
It seemed like pleating at the shoulder (and possibly at the hip) might do the trick!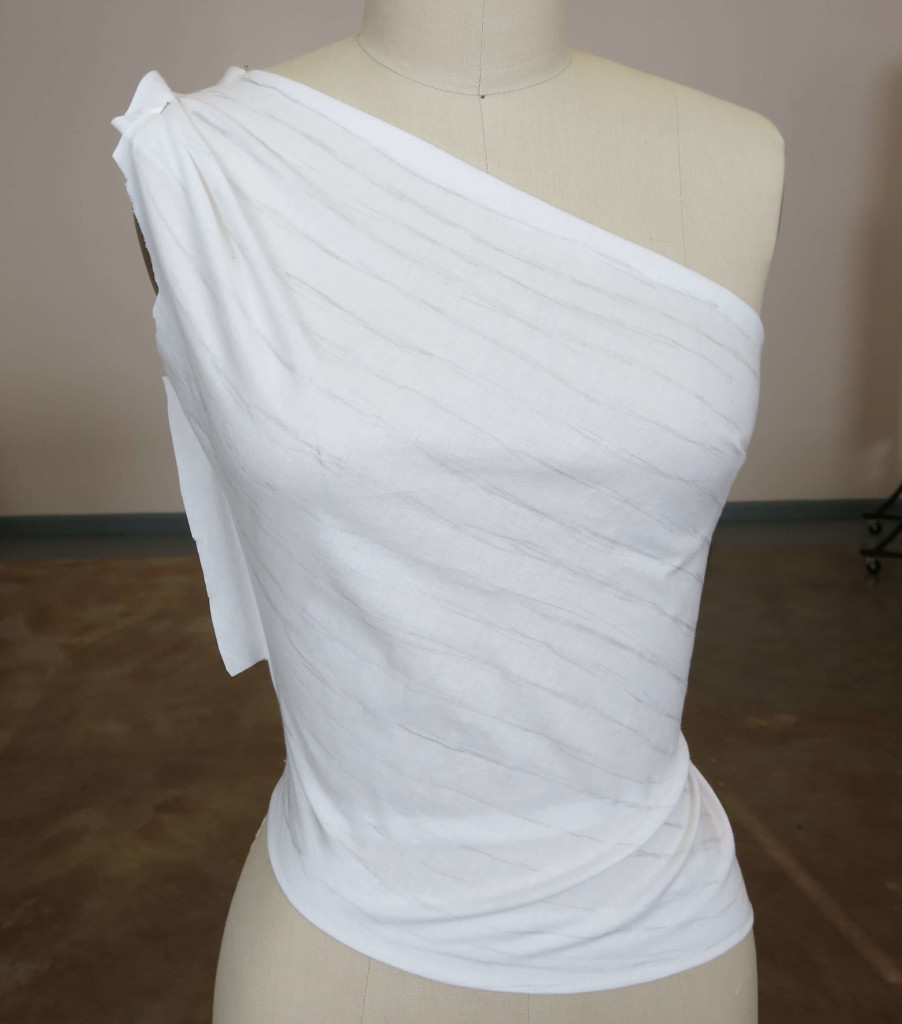 I also gathered a bazillion new inspiration images, getting inspired by one-shoulder dresses. Check out the Pinterest Board I made For Sally!
I was feeling confident that I could find a way to make her design work in real life!
Creating a second sketch
I started sketching my own version of Sally's sketch. As I made design decisions, I darkened my pencil lines.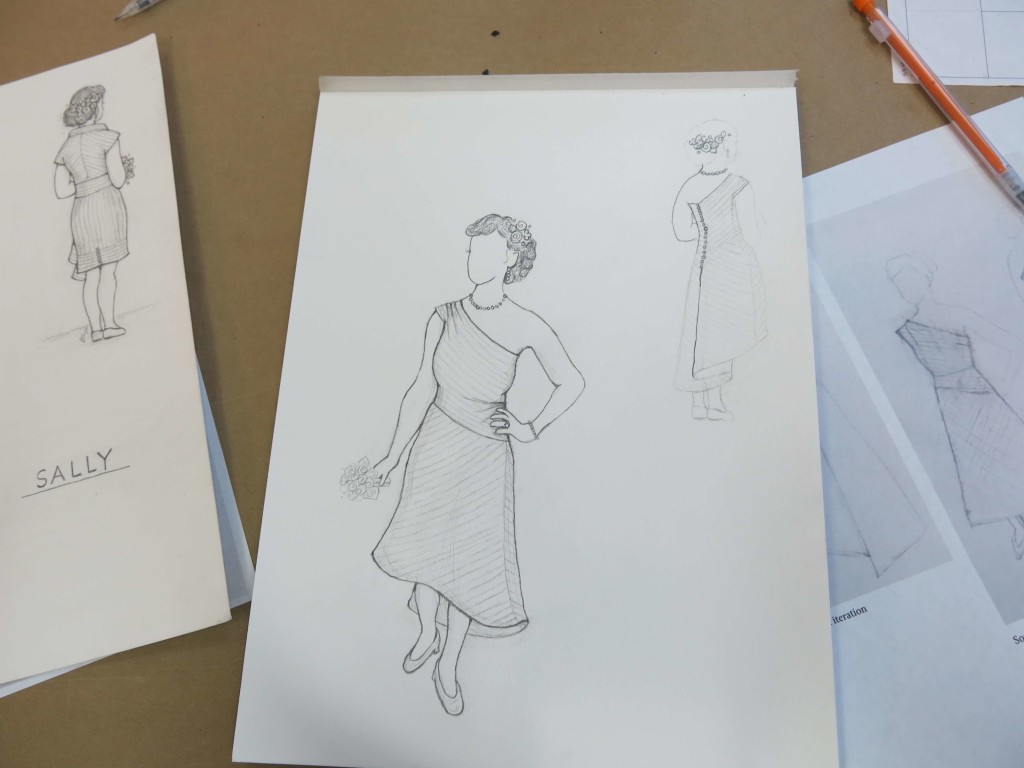 I decided to make another change to Sally's design to make sure it would function correctly. The way that Sally drew the wrap in the back had me concerned that it might flap open and show her butt. In my version of her sketch, I added extra fabric inside the back wrap folding on itself. Seemed like a cool way to make sure that no one gets an unexpected peek at her cheeks!
I added this redesign to her Design Proposal along with new inspiration images: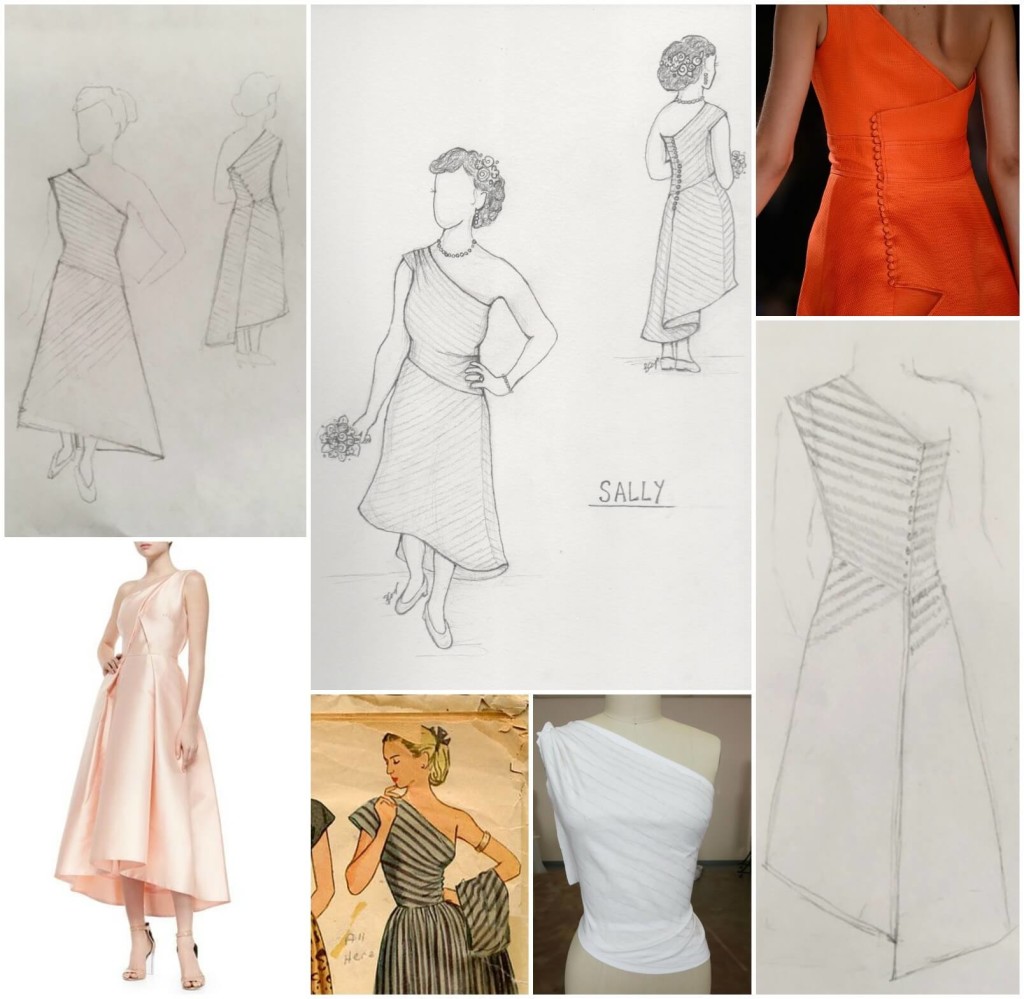 Sally loved it!
She was especially inspired by the Carolina Herrera image I found of the orange dress that wraps all the way across the back. She wondered if we could try something like this to solve the back wrap issue. She also thought it might be nice to change the angle at the hip to the opposite direction. I agreed that these sounded like excellent edits!
She sent me another gorgeous sketch of her own: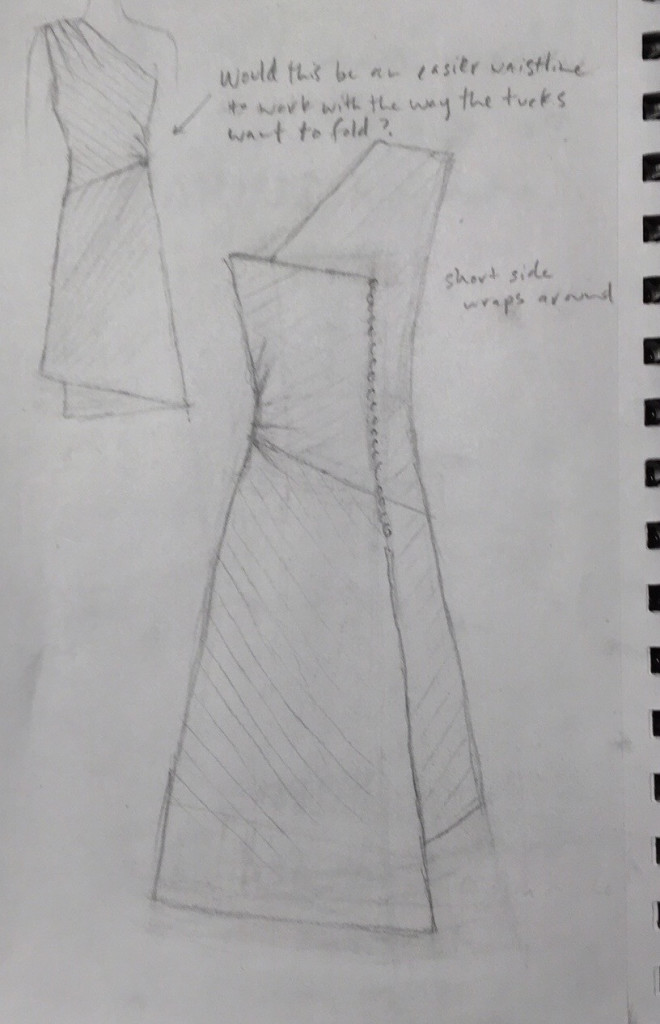 Third time is a charm!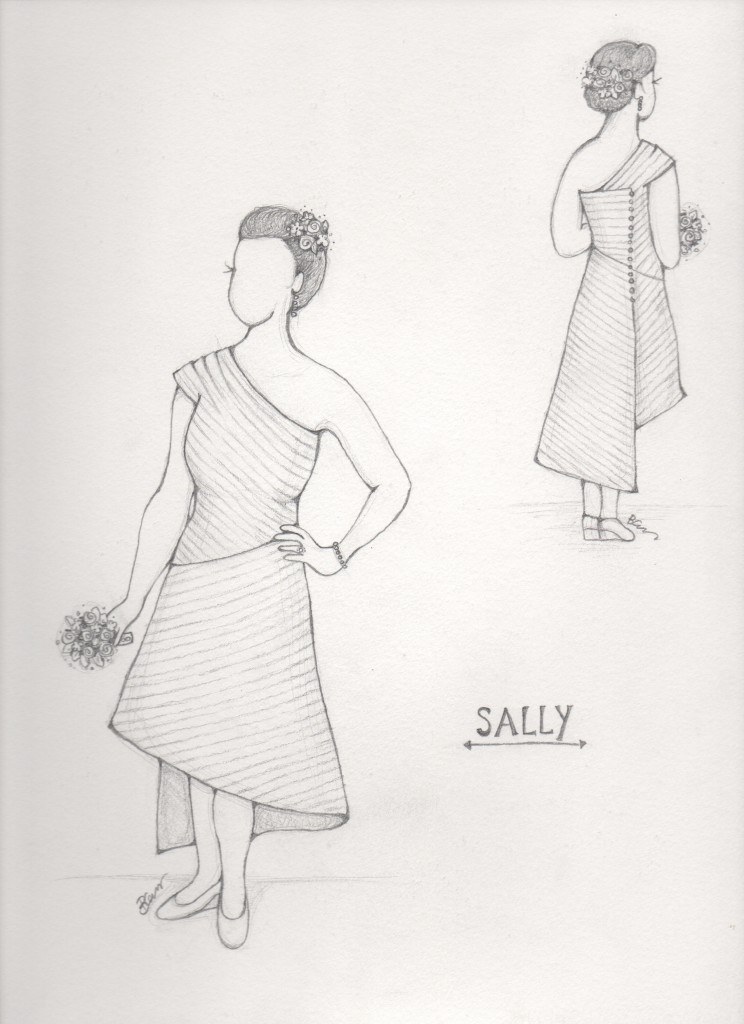 Here's the third and final sketch I drew for Sally! She loved it, booked the dress, and couldn't wait to wear it on her wedding day! I was also thrilled with what we came up with together in this truly collaborative design.
Here's all three sketches together for comparison: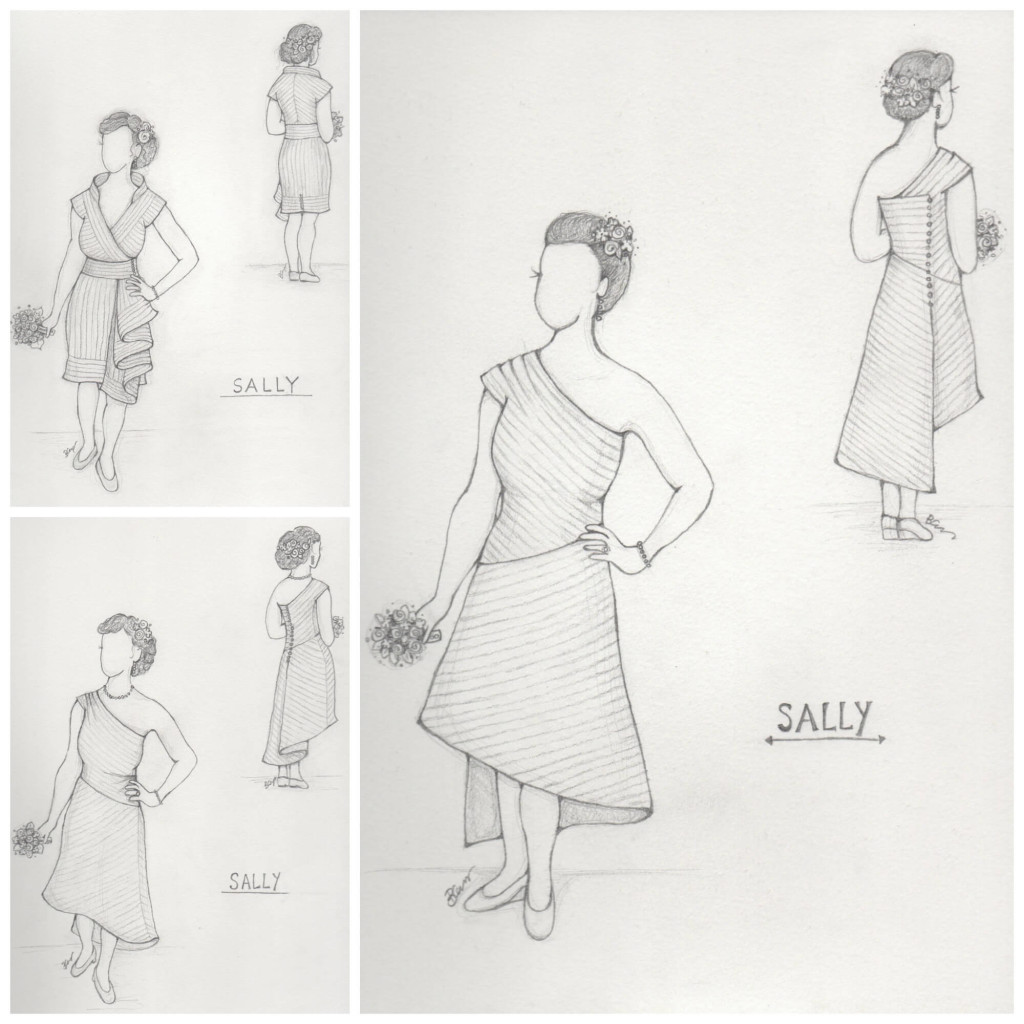 Which one is your favorite? Would you consider stripes for your wedding dress?
NEXT POST: The custom dressmaking process begins!