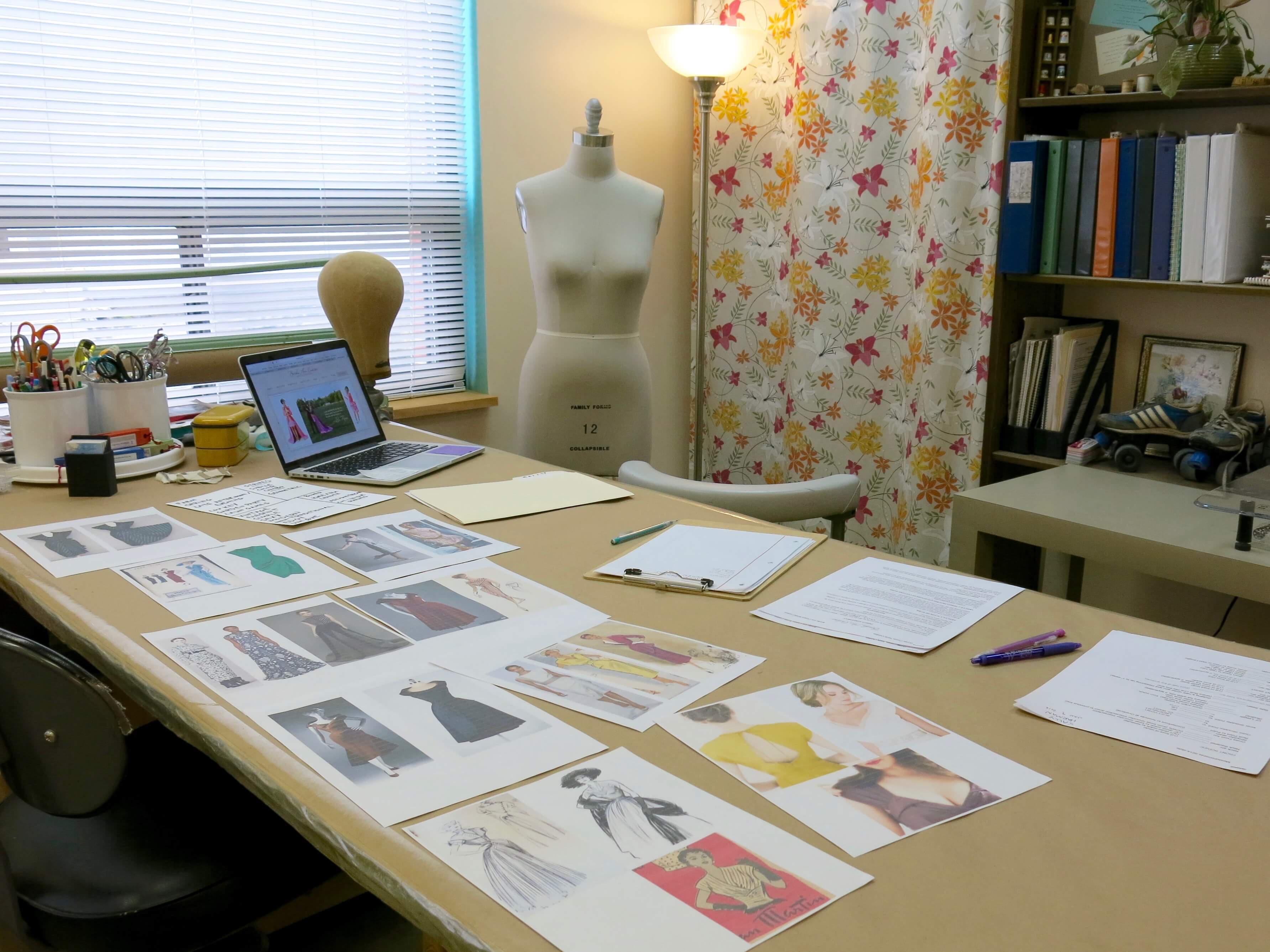 In my previous post, I introduced my most recent bride Sally and shared some initial ideas for her custom wedding dress. After reading the answers to her questionnaire and having a few phone and email discussions, my mind was absolutely buzzing with possibilities for her one-of-a-kind design!
I collected dozens of inspirations on a Pinterest board for Sally. I printed out my favorites so that, when were were together, we could draw on them and mix-and-match elements to create something truly unique.
The Design Consultation
Sally and her mother came to the consultation at my studio in Hillsborough and we had an absolute ball together. I learned that Sally was interested in:
a striped fabric: cream or white with brown or gray
an interesting neckline, perhaps a high collar
knee or tea length
short cut-in-one sleeves
asymmetrical
non-traditional
Sally also brought two inspiration dresses with her. She'd had them both for many years.
Inspiration dress #1: The first was a brown handmade thrift store dress that she'd had since she was in high school. It had a killer standup shawl collar that makes a faux wrap as the bodice. When she was younger, she dreamed that this brown taffeta dress would be remade as her wedding dress. Even in its tattered and unpressed state, it still looked stunning on Sally!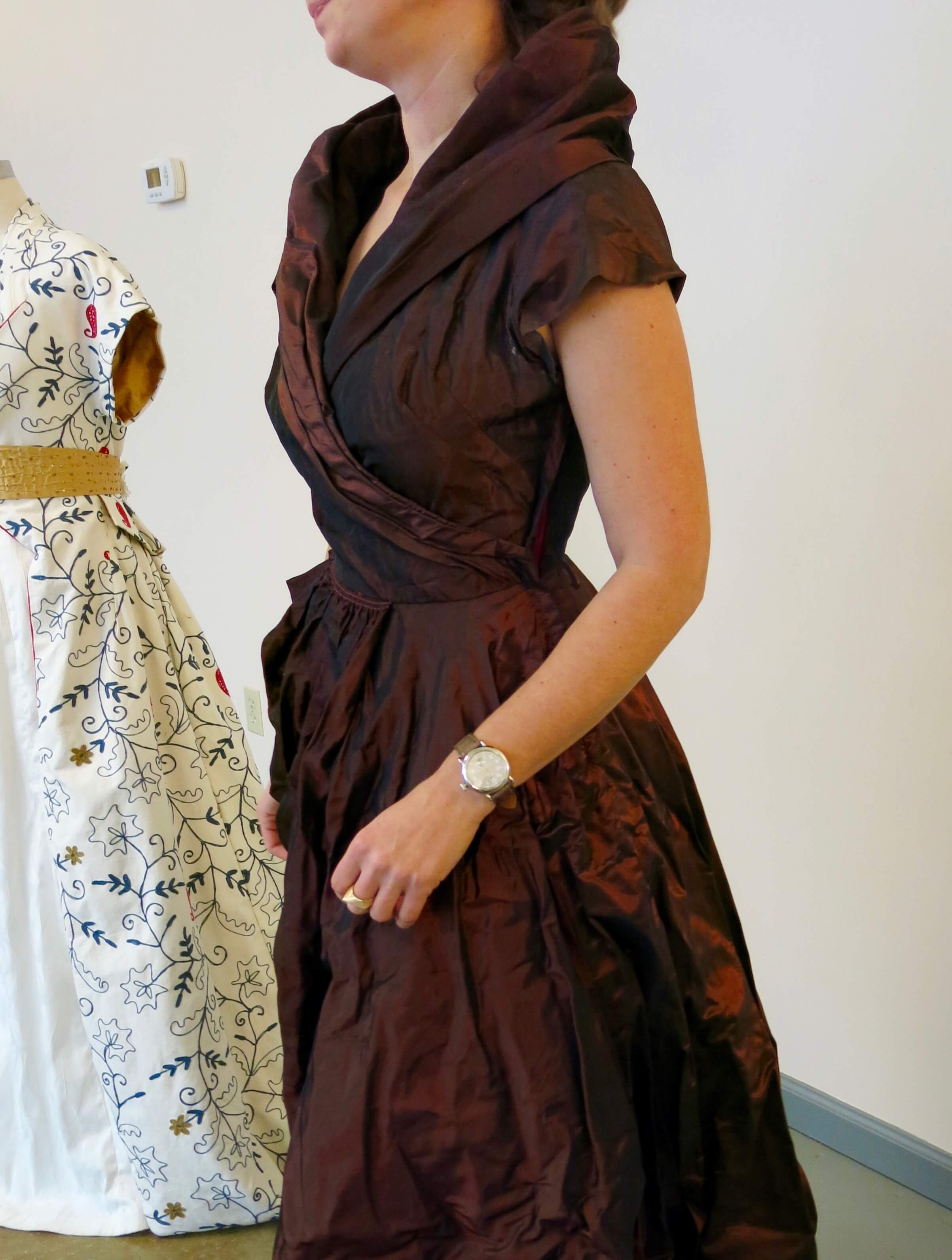 While Sally still felt a lot of love for this dress, she admitted that her style has changed as she's gotten older. She was now interested in something a little more conservative and a little "less princessy".
Inspiration Dress #2: Sally also brought a second inspiration dress that she'd got in Paris many years ago. She loved the shape and the fun stripes.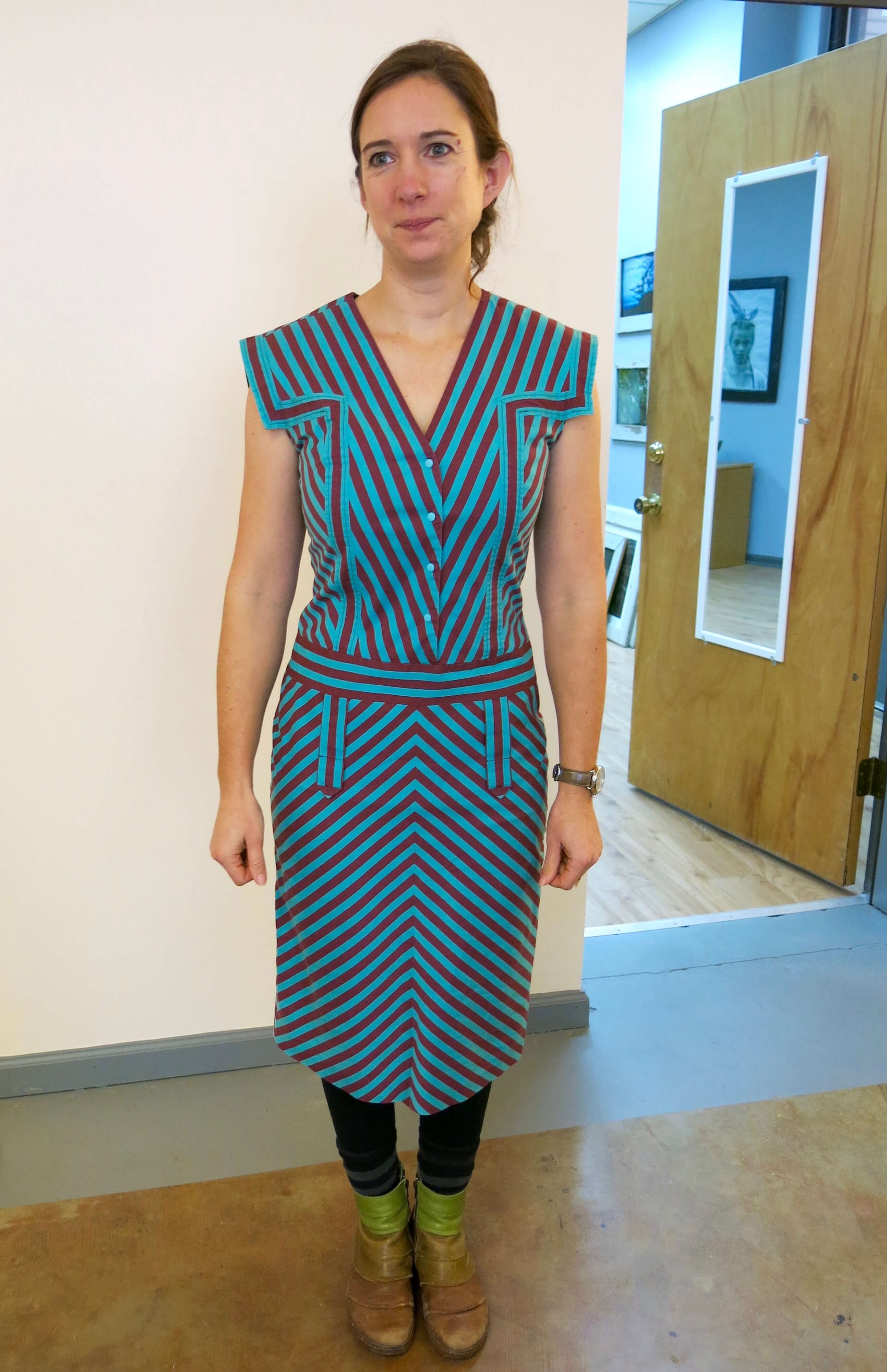 Sally was hoping the dress she would wear on her wedding day would be something simple and non-bridal, but edgy, comfortable, and modern.
Our favorite inspiration images were the neckline from Tony Ward's 2015 Arome, a fun Mildred Orrick striped dress from 1946, and a stunning Patullo-Jo Copeland asymmetrical wrap dress from the 1940s.
After a fun trip to Mulberry Silks to look at fabric inspirations, it was now my job to synthesize all of our ideas into one cohesive design that would look great on Sally and reflect her personality and wedding style.
The next day I got a wonderful note from Sally saying "I had such a good time with you yesterday and I think the dress brainstorm was incredibly helpful and productive.  I did not really know where to begin (still a bit overwhelmed by this wedding business) and I feel like you did so much groundwork.  I (and my mom!) appreciate your thoughtfulness so much."
Sketching and the Design Proposal
To start sketching for Sally, I used photos I took of her during our consultation to draw the new designs onto her silhouette. When creating a custom design for an individual it is very important to skip the willowy stylized "fashion design" type of sketching and instead use the person's actual figure. This is an excellent way to "try on" new garments before they even exist!
I was able to play around with proportion and scale while keeping all of Sally's preferences in mind.
I really love sketching, so I even took my work home to my kitchen table.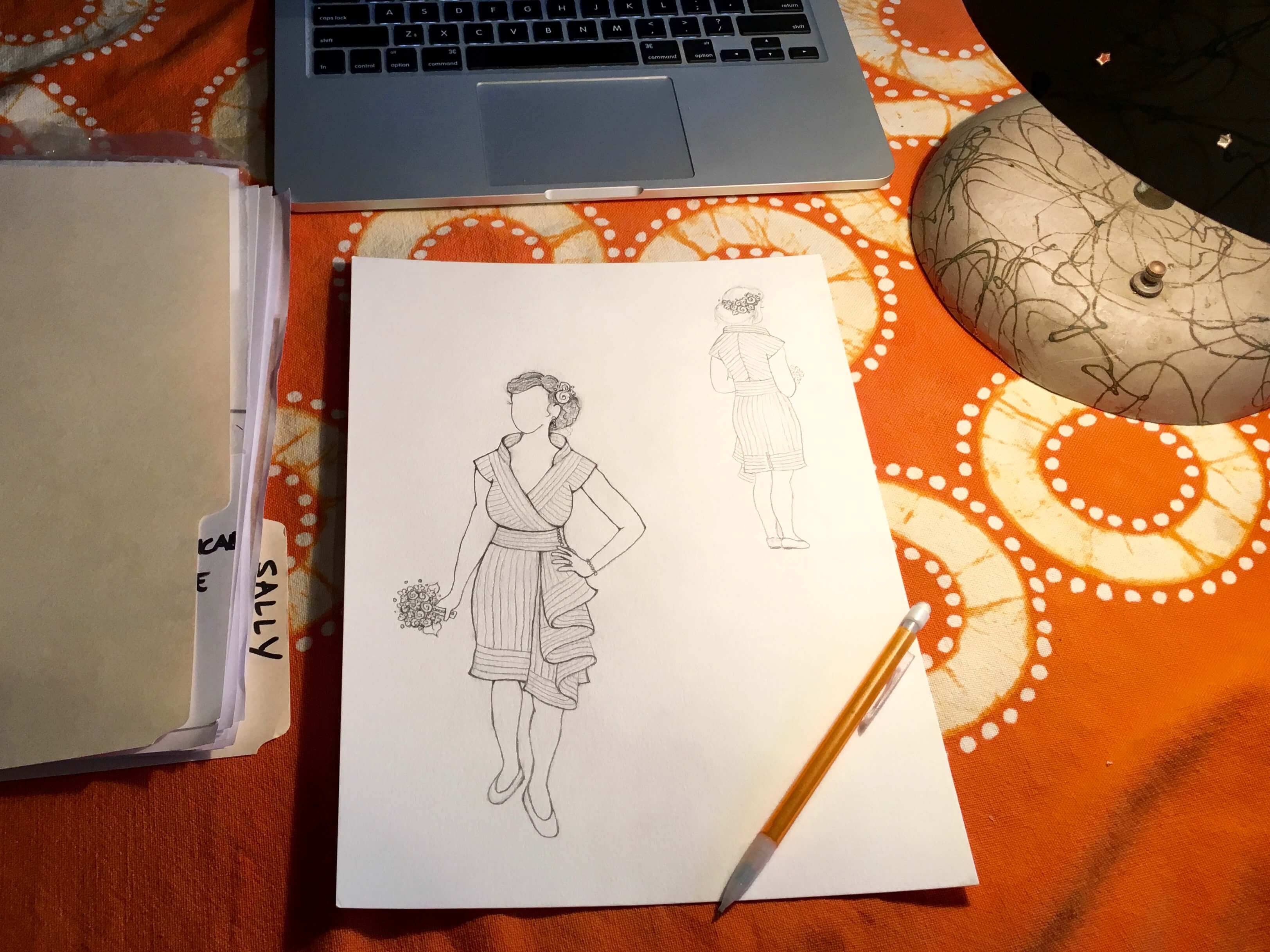 Ultimately I came up with this design which seemed to have everything Sally was looking for. It did not look bridal (though I added a few bridal buttons that I hoped she'd like!), it was fun and easy to move around in, yet was a stunning asymmetrical dress with a cool collar that would look great on Sally.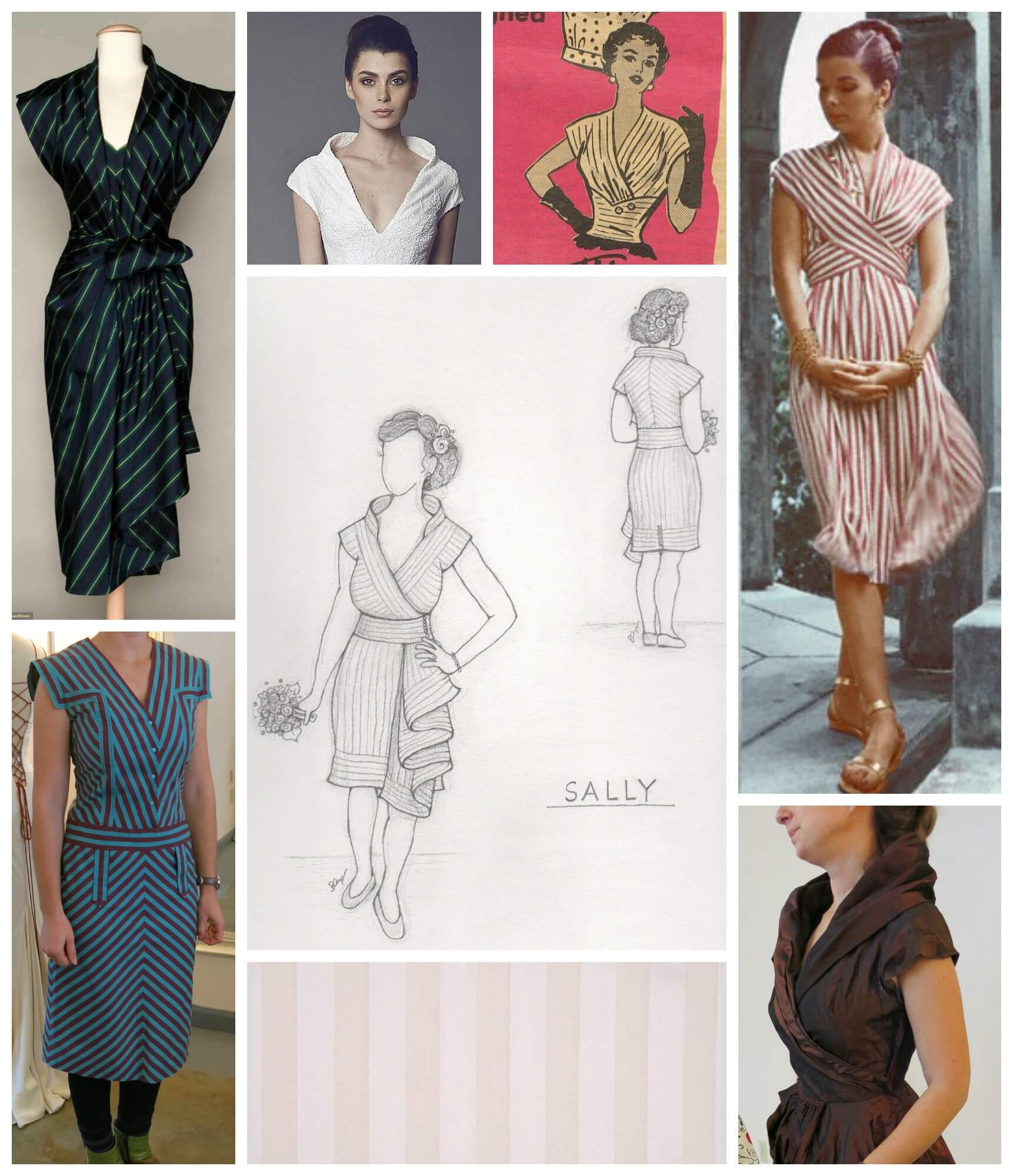 I added the sketch and inspirations to her Design Proposal website and couldn't wait to hear her thoughts!
What do you think?!
NEXT POST: A change of heart and a new design!