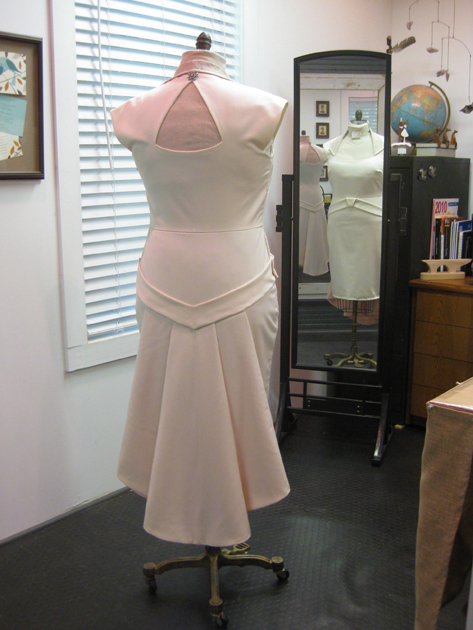 The dress was marked, prepped, cut and assembled for our first fabric fitting.  Different fabrics act differently so it is important that I not rely totally on the fit of the mockup once I start making the real dress in the real fabric.  Though I'd love to actually finish the dress and finally see it with real seams, hems, facings and linings, most of the garment is put together with temporary stitches.  I hand basted the side seams so that they can be easily altered, if needed, in the fitting.  One clip of a thread and the basted seams can be removed quickly, in case something needs to be let out or moved.
Unfortunately, hand basting looks a little puckered so we must both use our imagination when it comes to how beautiful the seams will look once they are finally sewn in with permanent stitches.

Once the garment was fitting ready, I took some snapshots and added them to Michelle's website for her to preview.  I always like to inform the bride of what to expect to see at the fitting, so that she isn't nervous prior to (or surprised arriving at) the fitting.  I explained to her via the website that the seams and accent pieces are merely basted and that the cover of the collar has not yet been applied.
Once Michelle saw the preview pics, she sent me an email.  She said "Every time I look at the photos, you took my breath away!  It looks WONDERFUL Brooks Ann!  I cannot WAIT to see it and feel the fabric!"
You can see her preview page for yourself by clicking here.