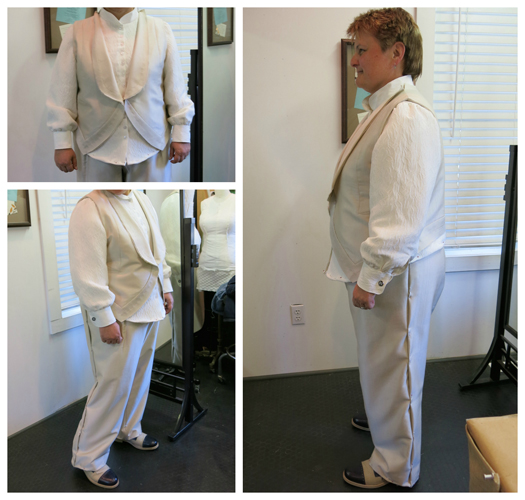 Diane's basted fitting went really well!  This was the first time that Diane was trying on her bridal ensemble in the actual fabrics.
Diane had again lost a lot of inches from her surgery, and since she was looking so good, we were able to change the design slightly to show off her new figure.  Originally, she asked for "flowy" pants, but the new slimmer Diane was looking great with new slimmer pants!  I pinned out a few inches off of each side of her bridal pants for a more tailored look.  She couldn't have been happier!
After the fitting, I was able to get right to all the finishing work!  I started by pulling out my patterns one last time (sniff) to cut the linings.  I added a fun splash of color to the lining of the vest that matched the navy dresses of the bridesmaids and the navy accents on Diane's wedding shoes.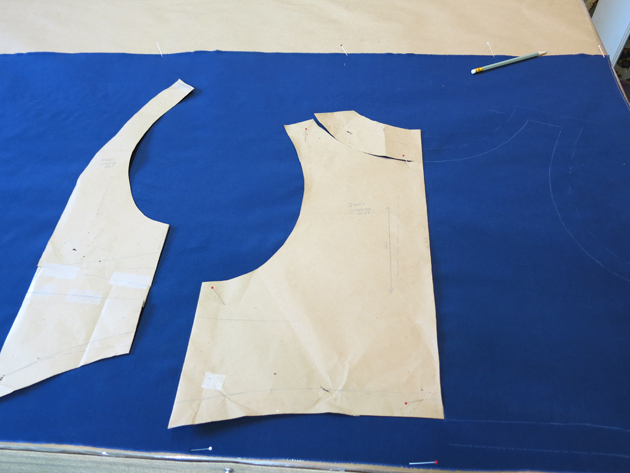 I was also finally able to cut out all of the excess fabric that was left inside for fitting purposes and finish off all the edges!
There were a lot of layers of fabric in the seams of the vest, so I did a lot of grading, clipping, and notching!  These techniques allow the seam allowances to lie flat and smooth once they are turned and pressed.  I also finished off my edges with custom made bias bindings.  (Take note Skirt Skills members!)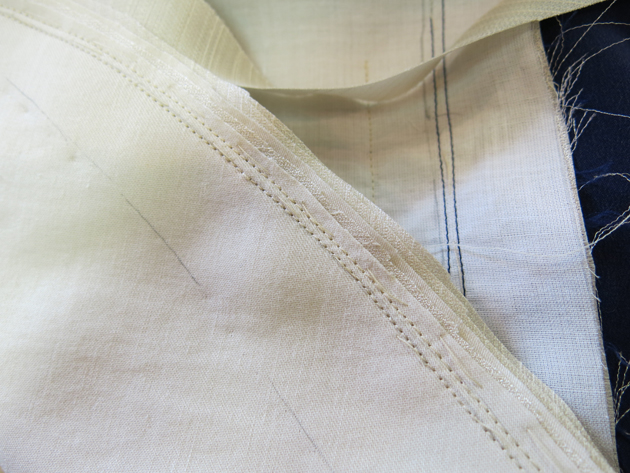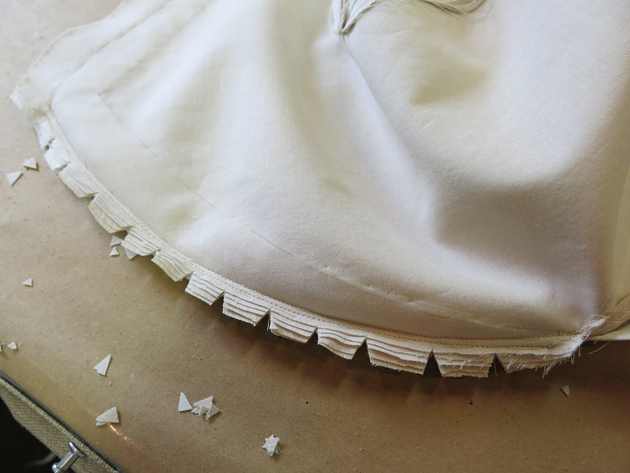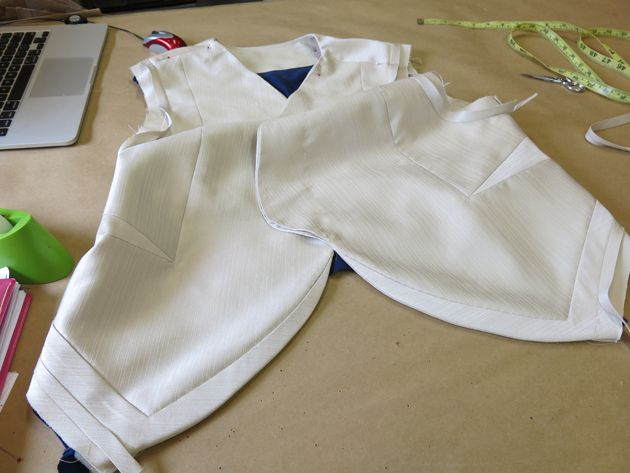 I always like to add a little something special inside all of my wedding dresses and ensembles:  a hand embroidered label with each of the couple's initials and wedding date.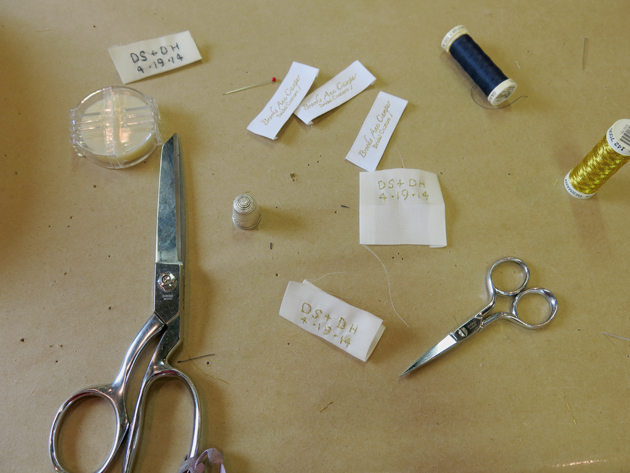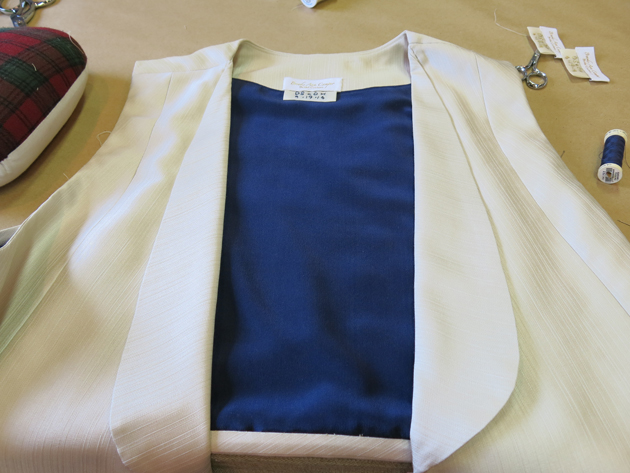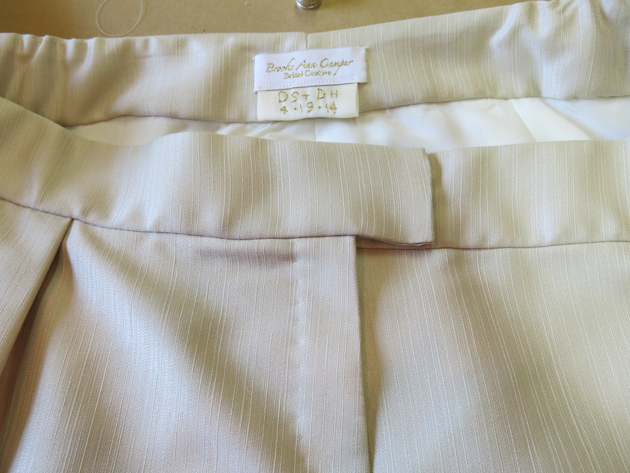 In my experience, I've also learned that a garment can not be considered "done" until you have a way to hang it.  Since I usually make dresses, I actually had to do a little research to find out the best way to hang a pair of nice pants.
What I learned was that you are supposed to hang them from the hems with a clamp-style hanger.  I ordered a nice set of hangers for Diane that included a nice cedar clamp.
After looking at the hanger, I noticed that it had some hard ridges cut inside of the clamp.  After making such a beautiful pair of pants, I was afraid that these grooves would leave a scar on the hems of Diane's silk faille!
I decided that it would be best to add a little felt lining to each side that could be held on with elastic.  Just a little extra work, but it could save the pants from damage!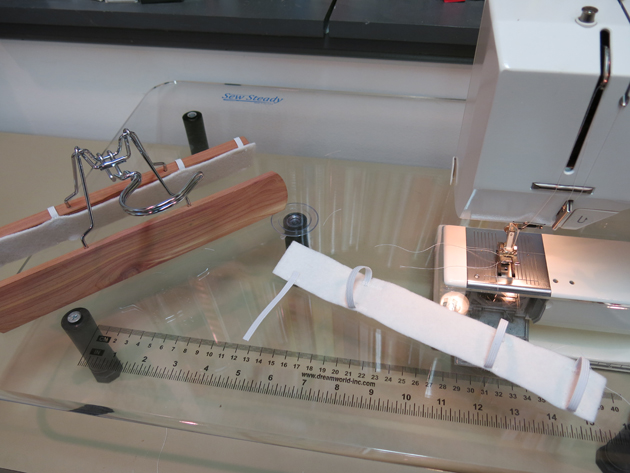 It was finally time for Diane's final fitting and delivery day!  We were both brimming with excitement because she looked and felt fantastic!  What a challenge and what an incredible journey!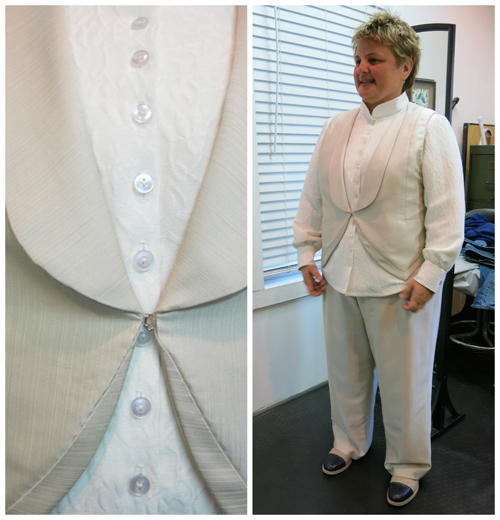 Diane was able to take her ensemble home with her that day.  As an invited guest, I would have the honor of seeing her and her beautiful fiancé again just two weeks later at the wedding!!!
NEXT POST:  DIANE'S WEDDING DAY featuring the fantastic photography of Nick Pironio from Looking Glass Weddings!
Can't wait for wedding day shots?  Here's a quick pic I snapped the first time Diane and I saw each other on the big day!