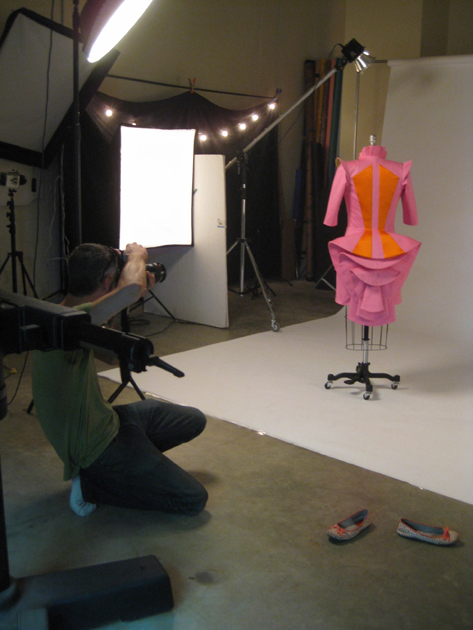 I had an fantastic photo shoot with Kent Corley Photography!
Kent Corley is an amazingly talented product photographer right here in Hillsborough, NC.  He's shot all of my dresses for my portfolio!  I shoot each dress on its custom dress form after it is completed, but before it is sent off to the bride.  Although I hope to get good shots from the wedding photographer, I need to cover my own bases.  I couldn't have dreamed of letting this dress go without documenting it with gorgeous Kent Corley Photos!
So without further ado…
When Lila Rose commissioned this dress, she chose the adjectives Fun, Colorful, Unexpected, Tailored, Dramatic, Unusual and Empowering.  It was an amazing journey to design this dress for/with her.
I couldn't be happier with the results!  Of the dress and of the photography!
Meanwhile…
While Kent and I were working on these shots, the amazing Amy-Jae Crawford of Syd's Hair Shop was giving Lila Rose the incredible beehive hairdo that she wanted, as well as giving her some gorgeous makeup, and setting her new custom veilette!
What happened that day was pure magic!  We had a bridal photo shoot with Lila Rose that will knock your socks off.  Here's another behind-the-scenes sneak peek!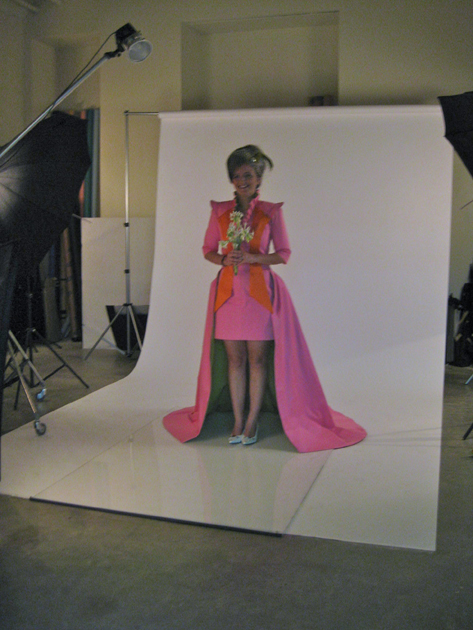 Next post:  The Bridal Shoot with Lila Rose, featuring Kent Corley Photography, Amy-Jae Crawford Hair and Makeup, and a Brooks Ann Camper Bridal Couture custom wedding ensemble and veil!!!  Don't miss it!
Never miss a post! Sign up for my email newsletter.