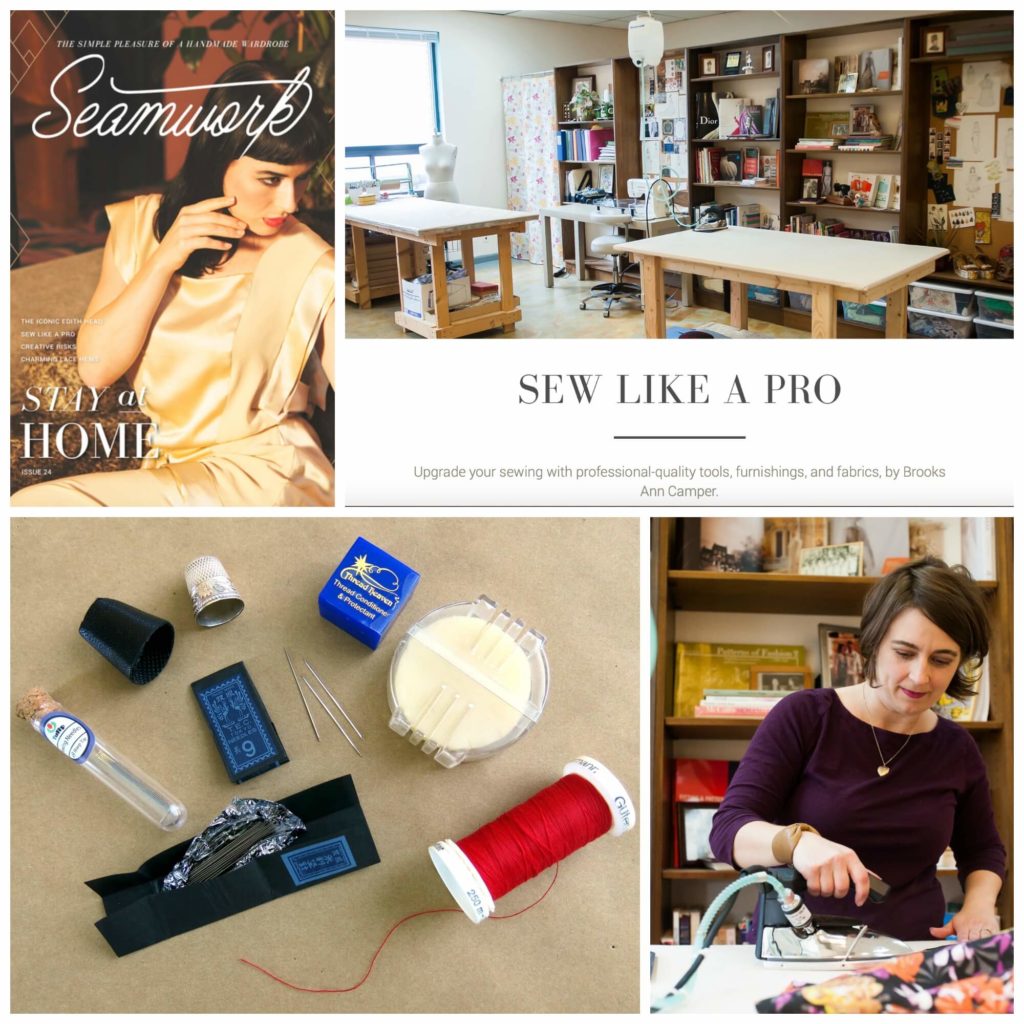 I'm excited to announce that I'm published in Seamwork Magazine again!
Seamwork is the online magazine from the team at Colette Patterns. Though I draft my own patterns, I've always loved Colette's style, packaging, and their fantastic blog: The Coletterie. In my eCourses, I often add articles from Seamwork and the Coletterie as bonus links. In my opinion, their beautiful articles and blog posts are truly some of the best sewing inspirations out there.
This will be my third time writing for this kick-ass publication! The first was a personal essay telling the story of my unusual introduction to sewing and the lessons it has taught me. The second was a detailed guide to the sewing technique of underlining.
I'm absolutely thrilled to be featured in this month's issue discussing how to upgrade your sewing with professional tools, furnishings, and fabrics!
The piece is called "Sew Like A Pro" and you can find it by visiting this link: www.seamwork.com/issues/2016/11/sew-like-a-pro or clicking the photo below!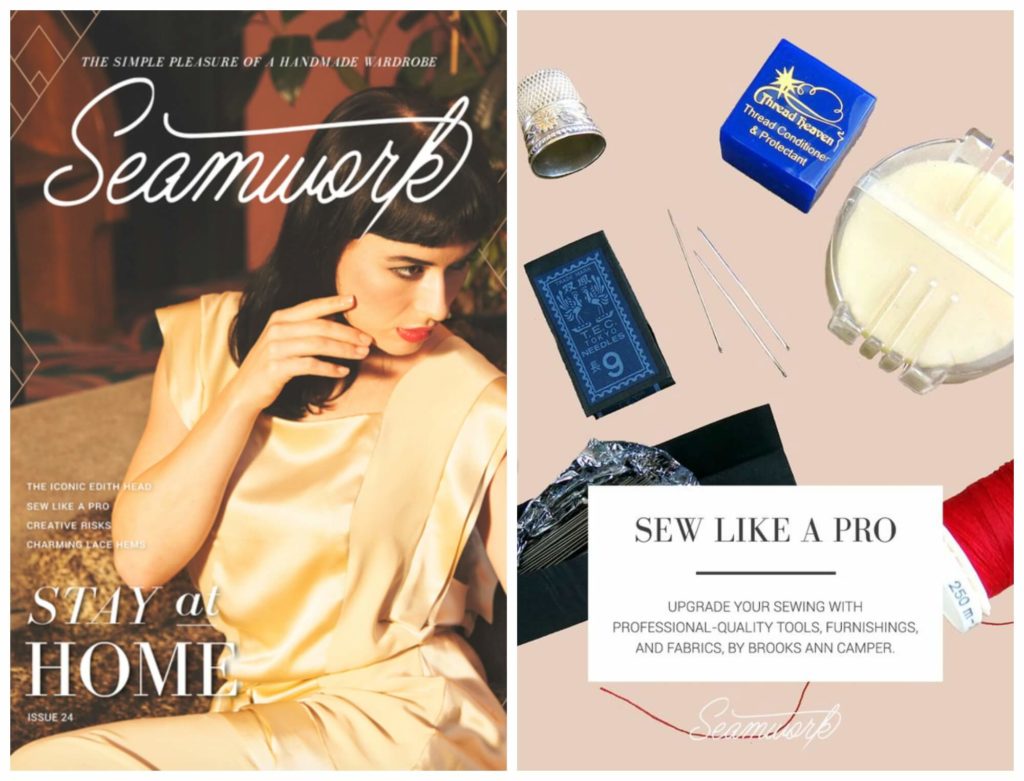 In the article, I talk about how upgrading your "sewing stuff", even as a beginner, can catapult the quality of your handcrafted garments and the enjoyability of creating them.
[separator]
"When you aren't satisfied with the experience or outcome of your project, you may end up criticizing your skills or doubting your abilities, when the blame is better aimed at your unsupportive supplies. Investing in quality will not only save you from repeated replacements, it can be a real confidence booster!"
-quote from "Sew Like a Pro" by Brooks Ann Camper for Seamwork Magazine
[separator]
Upgrade tools for the tasks you hate

For example, I've learned that a lot of sewists hate hand sewing (which you know I adore!). I suspect that in many cases this is because they've never practiced with a high-quality needle and a well-fitting thimble. I've personally taught many students who have turned their loathing of hand sewing into something they find indispensable after finally giving it a shot with nice tools.

Clockwise: A leather thimble and metal thimble, thread conditioner and beeswax, high-quality thread, and two types of Japanese hand sewing needles (in adorable packaging.)

In the article, I also share information about my favorite types of irons. I've never owned a "home iron" opting for boiler irons or gravity feed irons. Learn more about them in "Sew Like a Pro"!

Me and my gravity feed iron. photo by Shane Snider
Learn more my about custom-made tables
In the past, I have written info-packed blog posts about three types of custom-made tables. These detailed posts sparked the idea for "Sew Like a Pro" when brainstorming with Seamwork's editor.
After reading the article, head to my blog to learn more about how to make your own custom cutting, sewing, and patternmaking table like the one in my studio (pictured on the left) via this blog post from June 2014 titled "DIY Professional Sewing Table"…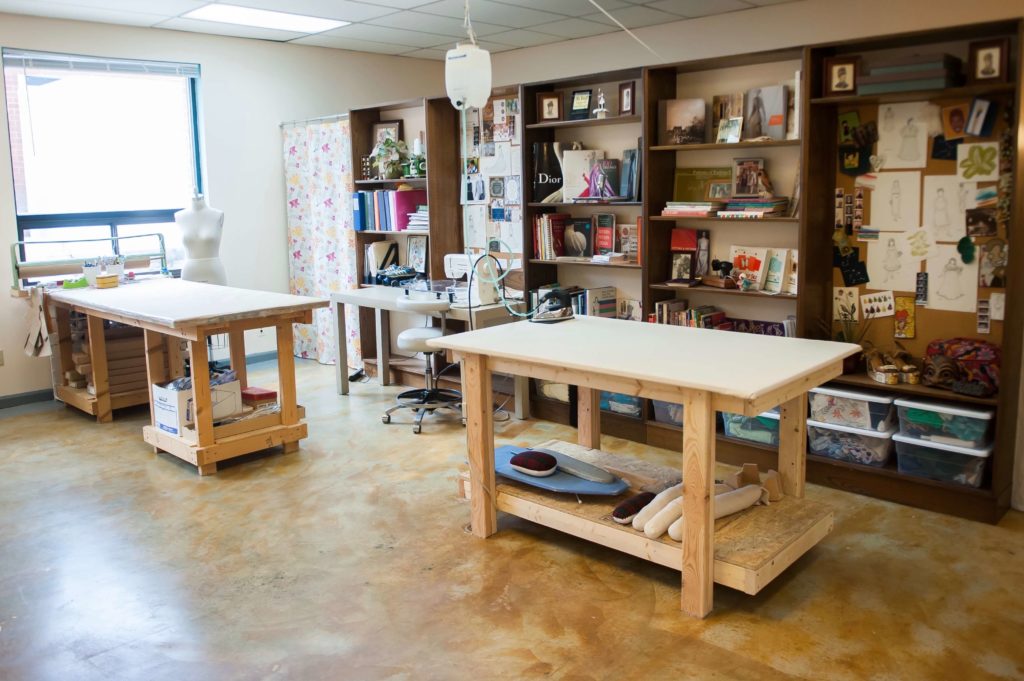 …and learn more about how to make a custom ironing table like the one in my studio (pictured on the right) in this blog post from June 2015 titled "DIY Professional Ironing Table".
BONUS! Though my portable custom table was the original inspiration for "Sew Like A Pro", the photo collage below was cut from the article. Here's the "deleted scenes" bonus with my lead up and caption for it!

"If you don't have room for a permanent ironing table, consider adding a larger more stable custom top to a sturdy ironing board base. This allows you to easily press yardage, but still tuck it away when you aren't using it."


"I made this portable table for double duty! A canvas cover was added when I needed it for pressing. Without the cover, this clever handmade contraption became an extender to widen my custom work table!"

Learn lots more about this portable table (including how to make one for yourself!) in this blog post from June 2015 titled "Small Sewing Space Solution: Portable Ironing/Cutting Table.
I also write about about my favorite scissors, my fancy chair, gab a bit about fabrics…
But don't take my word for it, check it out yourself!
Here's one last link to:
"Sew Like A Pro: Upgrade your sewing with professional quality tools, furnishings, and fabrics" by Brooks Ann Camper for Seamwork Magazine
I hope you enjoy it!
NEXT POST: I'll jump right back into blogging behind-the-seams of Sally's custom wedding dress!