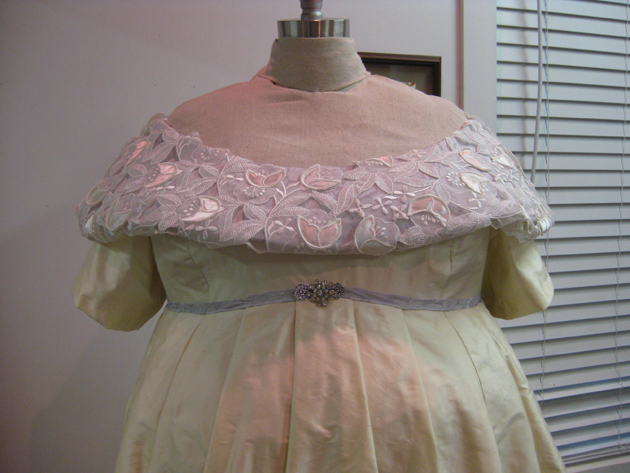 Happy Thanksgiving everyone!  I'm having a lovely time with family at the beach.  The relaxed atmosphere is giving me a little time to catch up on my blogging!  Now where was I?…
Greta's dress was finally ready for her Final Fitting!
Mind you, the dress was not finished yet.  There were still a few adjustments to be made in the fitting before I do all of the fancy couture finishing.  In the photo above, you will  notice that the collar is finally starting to look like the collar in the original sketch!
But if you look closely, you can see that it is actually not finished at all.
The Sposabella lace is still uncut and is just draped around the collar.  I didn't want to cut any of the intricate lacework until I was absolutely sure that the fit was perfect.  Once finished, the collar will look a lot less bulky and will fit onto the Iceberg blue silk jaquard seamlessly.
The trim at the waistline is also just basted and will be applied permanently after the fitting.
The really funny part you may notice in these first two photos is the "jewel" at the center front of the empire waistline!  On her wedding day, Greta will be wearing her grandmother's diamond brooch, which she keeps at her home and brings to her fittings.  In the meantime, I placed a drawing of the jewel that I used for scale and then placed it under a rhinestone brooch of my own.  If you don't look very closely, it gives the "look" of the actual brooch.
Here's the first peek of the pre-final-fitting full length dress!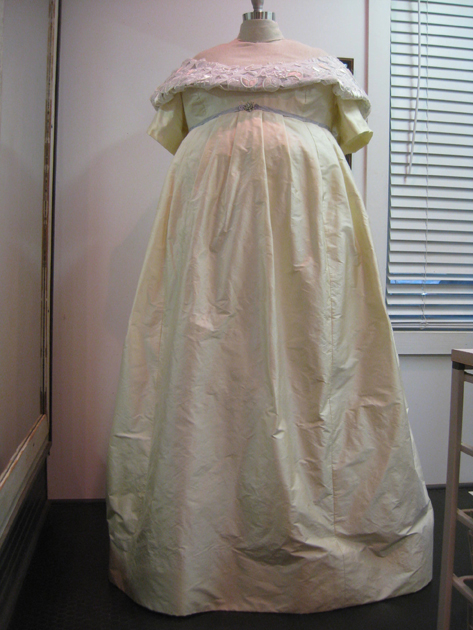 But enough about the dress in-process and/or on a dress form!
Greta came over to my studio for our Final Fitting!  Guess what?  The dress fit great!  We only had to make very minor adjustments.
I gotta tell you, Greta looked absolutely gorgeous and she was pleased as punch to finally be in her custom gown!
But don't take my word for it!  I think Greta's smile speaks for itself!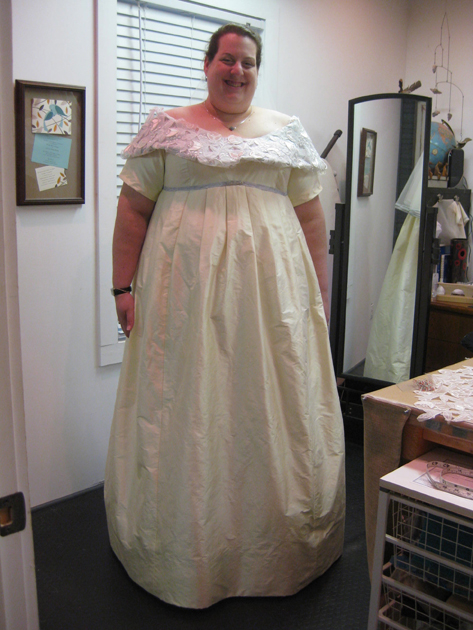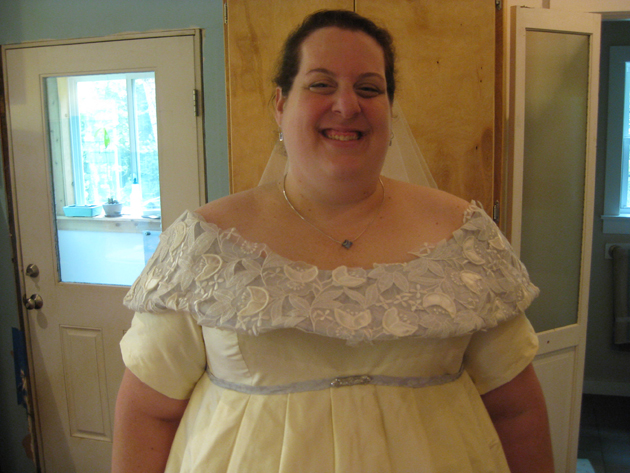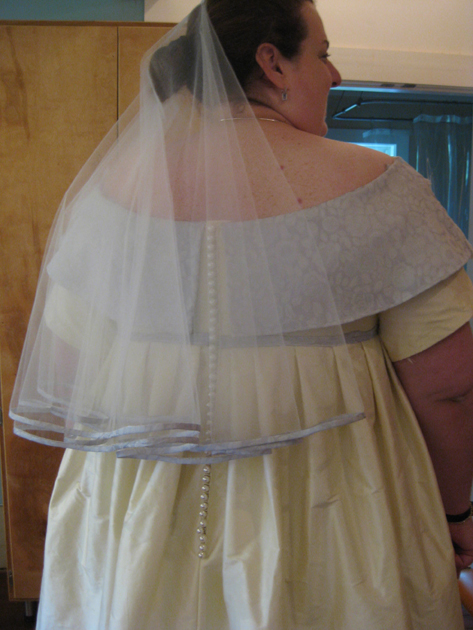 For the fitting, I didn't place the lace onto the back of the collar.  When I finish the dress, the blue you see on the collar here will also be covered in the lacework.  But you can see how nice the pearl buttons look on the silk shantung and how the attractive the shape of the neckline is on Greta.
(Oh and I forgot to mention that I started the veil!  We'll just consider this a sneak peek and I'll tell you more about how it was created in a future post!)
I was so excited to have such a successful  fitting and such a happy gorgeous bride!
Finally, it was time to start FINISHING GRETA'S DRESS!!!