During all the transitions and projects of 2014, I created a very special dress that I'd love to share with you.
It was for my beautiful mom.
She and my dad have been married for 50 years.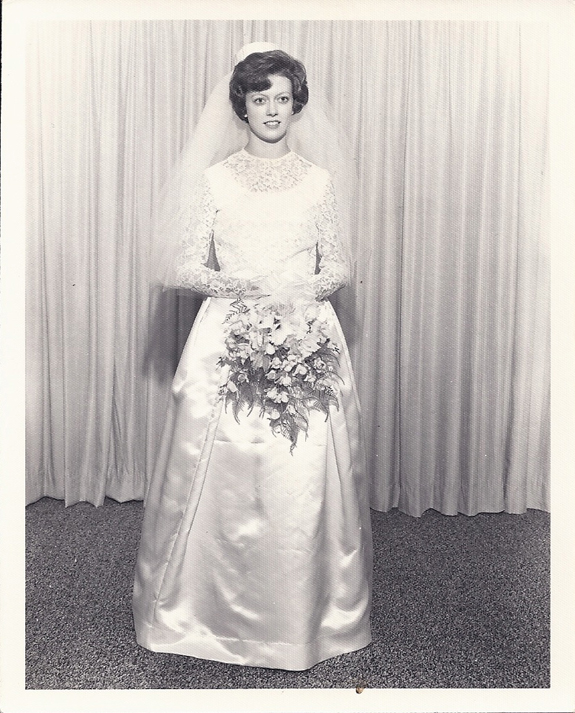 The Design Process
As my biggest fan, my mom wanted the experience of a custom-made Brooks Ann Camper dress.  Her 50th wedding anniversary was an excellent excuse.
I followed the same process as I do with my brides, which starts with a questionnaire.
The questionnaire is a fun way to help inform the dress's design.  Through a series of questions and brainstorming, I can start to create a vision of the woman's style, even if she isn't sure what she wants in a dress.
Via her answers, I learned that the event where my mother would wear her one-of-a-kind creation would not be a grand party.  It would simply be 3 couples (my mom & dad, my brother & his wife, and myself & my husband) out to a very nice dinner in the Skybox Room of the Tower Club in Dallas.  Yum!
My mom wanted her dress to be comfortable separates (a skirt and a top) that would work together as an ensemble, but could be dressed up or down when mixed and matched with other pieces to wear for future occasions.  She bought a pair of shoes that featured dusty pink roses as inspiration.  My dad also bought her a new ring that featured "rose gold".
I started a Pinterest board called "For Pat" as a place where she and I could share inspiration images for the dress.
Through all these steps, a design naturally emerges.  To create and communicate the design, I took a photo of my mom and created a custom sketch, drawing directly onto her figure.  (These are techniques I teach in my Skirt Skills eCourse.)
Then I made a little Design Proposal Webpage (I make these for my brides) featuring the sketch and our inspirations:
She loved it!
Her only edit was that she thought she might like it more if the roses didn't go all the way around the neck.  She preferred a small cluster of flowers only on one side of the neckline.  I thought that sounded like a great idea and I couldn't wait to get started on the custom creation!
The Mockup Process
Using an extensive set of her measurements, I created a "Size Pat" body double by adding strips of batting to a dress form.  I was then able to drape the simple design on half of the body in order to create a pattern.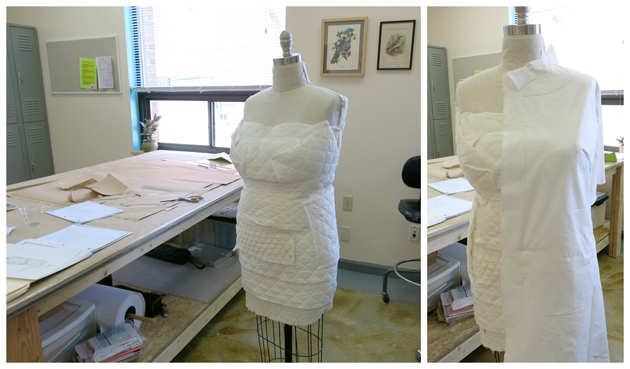 I created a mockup version of the dress-to-be based from my hand drafted pattern.  Even though we hadn't shopped for fabrics yet, (she lives in Texas and I live in North Carolina) I knew we'd choose something that would be fluid and drapey.  For this reason, I decided to make my mockup out of silk crepe de chine.
Yep, I made the mockup out of silk crepe de chine.
I did this because I wanted to make sure that the mockup would act like the real garment.  Had I made it out of muslin, it would be stiff and wouldn't really show how the garment would flow.  The reason why I chose silk (over the cheaper poly crepe de chine), is that I hoped the mockup would only need minor changes and therefore would be able to be taken apart and used as the silk underlining in the actual dress.  (I wrote a blog series and a video on this technique.)
My suspicions were correct.  The mockup fit nearly perfectly.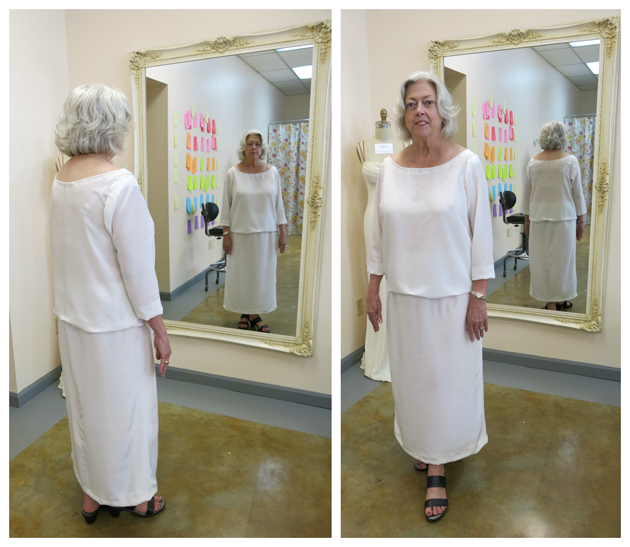 Isn't my mom the cutest?
Fabric Shopping
While my mom was in town for her fitting, we went fabric shopping at my favorite store Mulberry Silks & Fine Fabrics.  We were expecting to choose some lace (possibly navy?) and a contrasting fabric to go under it (possibly a rosy pink?), but instead we both fell in love with a print.
There was this silk twill (yes silk twill!) print with large roses in pinks and grays that we just could not stop coming back to.  We hadn't really considered using a print, but there was just something about it that kept calling to us.
We decided it was fate and bought it.
We would use the print for the skirt and for some decoration in the top.  I'd make the top out of a silver 4-ply silk crepe that I thought would really look pretty on my mom with her silver hair.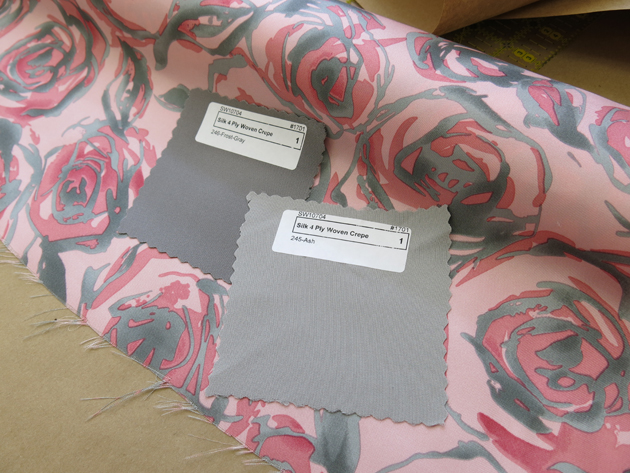 The Couture Dress Creation
After a fun "Girls Weekend" with my mom in town, it was time to get to work.  I took apart the mockup and used it as the underlining for the actual blouse and skirt.  (To learn how to do this, watch the video in this post!)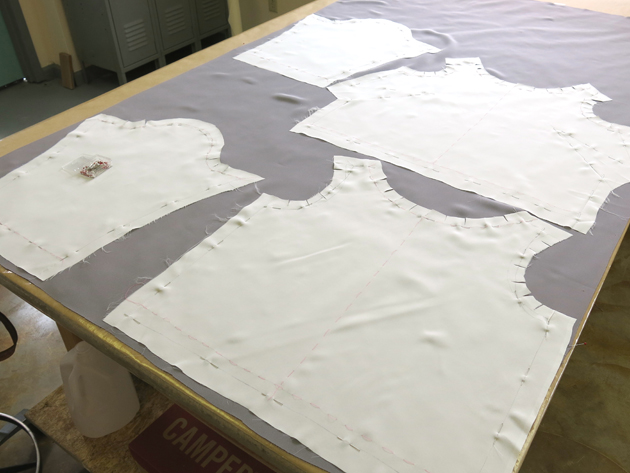 After the pieces were underlined, but before they were seamed together, I experimented with different ways to make the rose detail.  Since we changed our direction from the original sketch, I thought I could use the roses in the print to maybe make an appliqué, or perhaps 3-D flowers…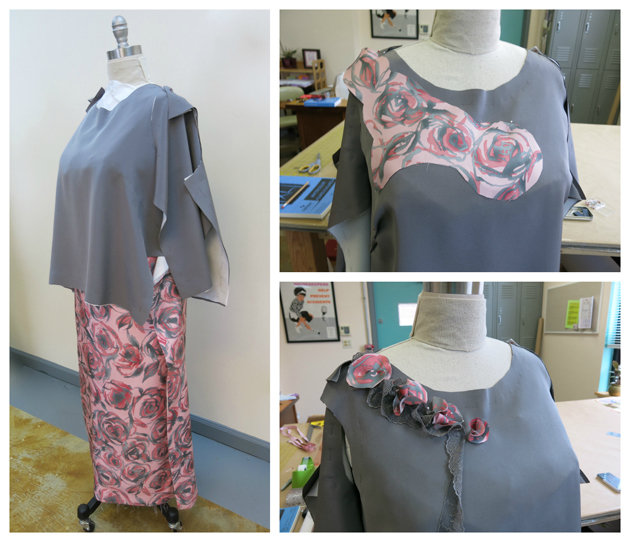 I decided to use this beautiful floral lace as an edging on the blouse's hems and a self-fabric bias binding on the neck…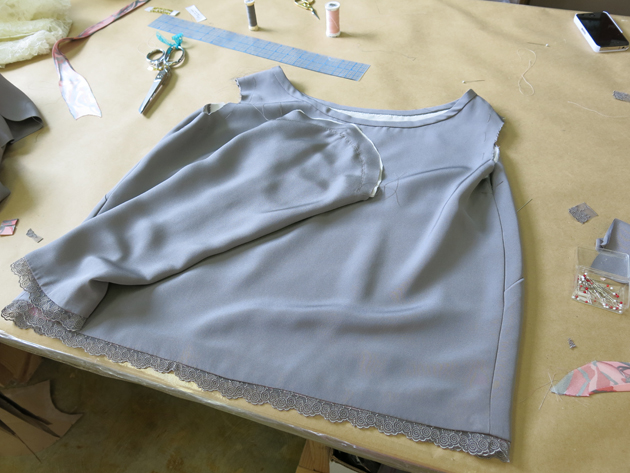 And before long, the ensemble was complete!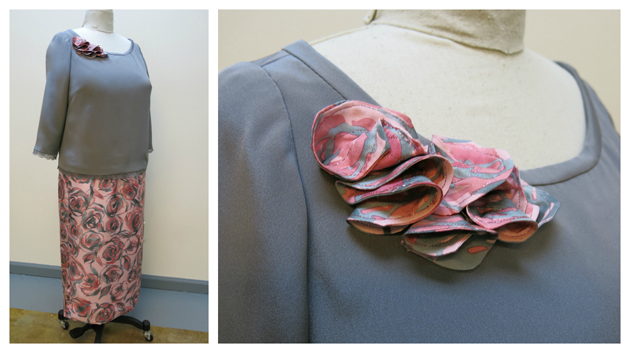 A Very Happy Anniversary
On a lovely summer night in Texas, my family and I went out to a spectacular dinner at the top of the Tower Club.  The food was divine and the company was even better (not to mention the fashion!).  Here are a few pics from that night.  (And yes, I made my dress too.)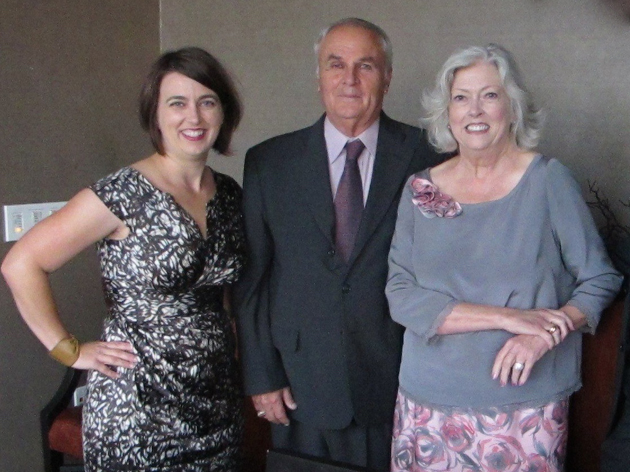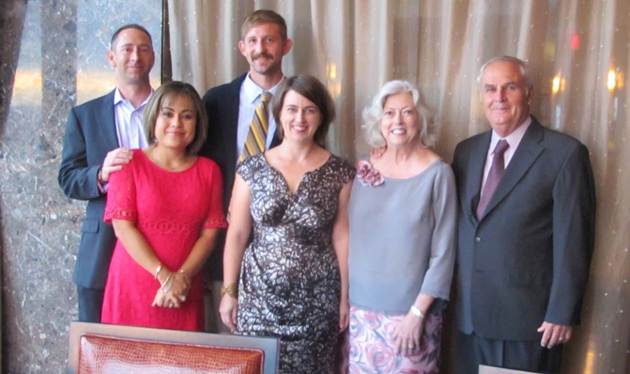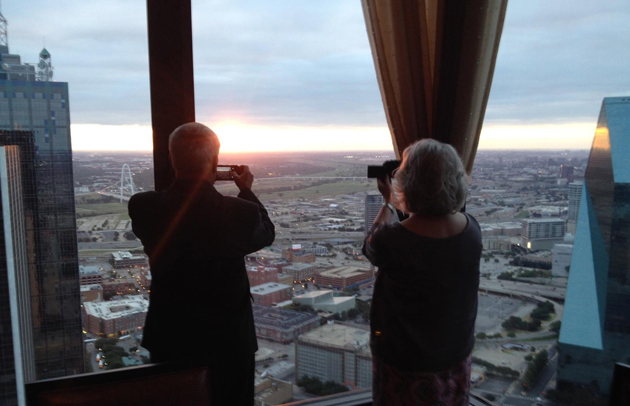 It was certainly a night to remember and an excellent way to celebrate the 50 years that my parents have been married.  They are each fantastic individuals who are even better together.  Their marriage is truly an inspiration and I am so lucky to have them in my life.
I immensely enjoyed the honor of creating a special dress for (and with!) my beautiful mother.  I hope you enjoyed this quick recap!
Congratulations Buddy & Pat!