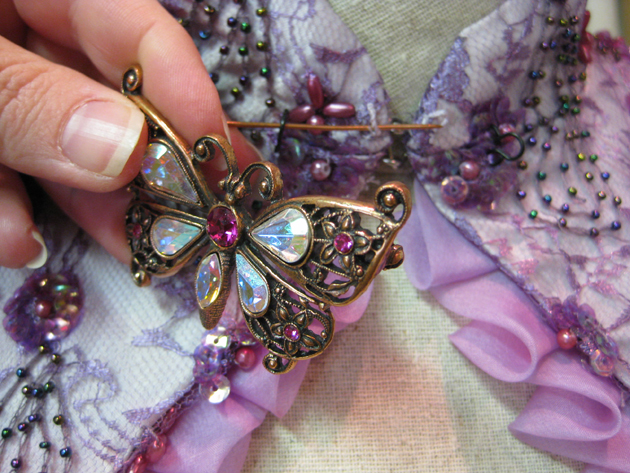 By now the brooch is selected, and the jacket is trimmed and fully lined. I chose to line it with itself using the same rayon blend fabric as the jacket.  This will give the garment the exact same "hand" and "softness" that Jill loved when she chose the fabric.  In order to make sure that the jacket closes perfectly and that the brooch stays perfectly centered throughout the entire wedding day, the brooch will not be the actual closure, but a decoration at the closure.  This also saves Jill (and the jacket!) from having to stab the pin into the garment.

For the real closure, I added a coat hook and eye at the neck before lining.  To add the butterfly to the closure, I had to take into account that this particular brooch is wide and flat, in contrast to a collar which naturally has a curve to it as it goes around the neck.  In order to make sure the center stays centered and that the ends of the "wings" stay back against the neck, I added four loops that the pinback must go through.  For the two outside loops, I used small eyes (from hook and eyes) and stood them right on their edges to give space for the wings to "float" a bit.  For the two center loops, I added thread loops (small chain-stitched loops made by hand out of thread) for the pinback to go through to keep it right at the neck.  Hopefully, if you look closely in the picture above, you will be able to see what I am talking about since it is a little hard to explain.
So now the jacket is totally finished!  Jill and I are extremely happy with the way it turned out.  Jill  has also given me her Great Aunt's birdcage veil to trim and spruce up, so I'll have a blog post or two about that coming up.  I'm refraining from posting a full pic of the finished jacket to the blog today.  The talented photographer Kent Corley is going to be taking some professional studio shots on Monday that will look much more impressive then these little snapshots I've been taking.  But until then, here's a sneak peek!