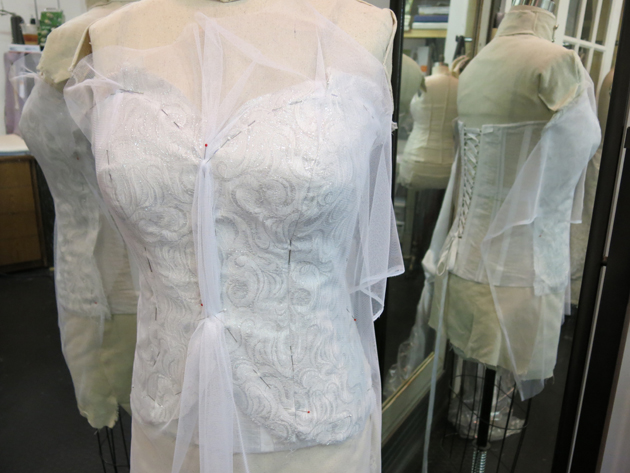 The blue is out and the white is in!  It was pretty much unanimous that the Silver Swirl fabric looked excellent with the white overlay and so-so with the blue overlay.  Loula and I decided to use the blue tulle as petticoats for a fun flash of color!  We both loved the way that the pewter trim looked with the metal accents and it was all still non-traditional enough for Loula's unique style!
I cut the pewter fabric into bias strips and used them to cover the unbound grosgrain ribbon that I used for Loula's mockup.  Bias can be manipulated into a curve just like grosgrain and it was working perfectly for the trim on Loula's wedding gown.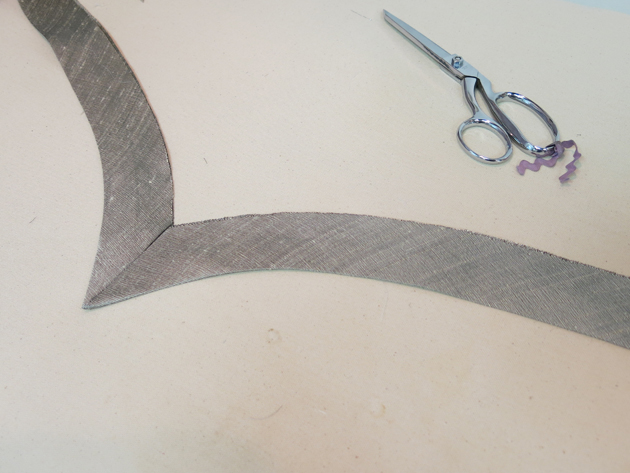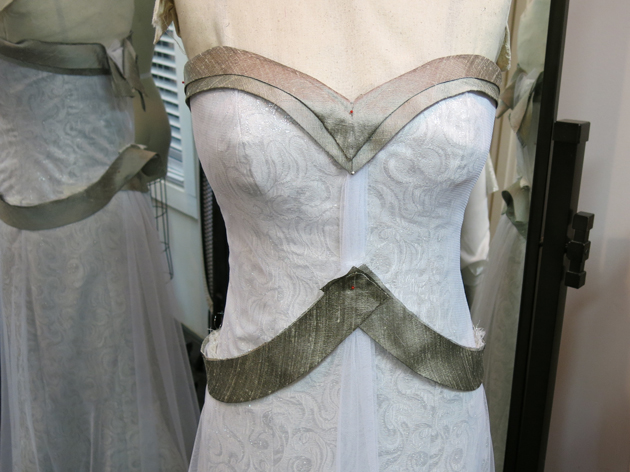 If you remember from the sketch, the trim on the hips of Loula's gown has Art Deco/Mardi Gras inspired "fringe" made of stainless steel ball chain.  In order to add these lengths of metal securely to the trim, I treated the bottom trim piece a little differently.
I cut the ball chain double the measurement of my finished fringe…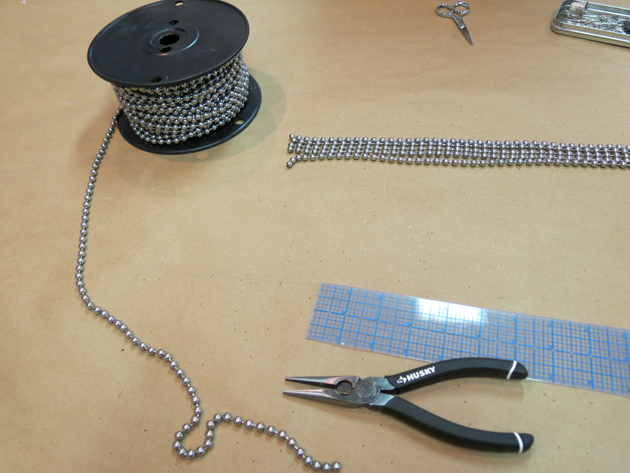 I marked out my spacing on the back of the curved grosgrain…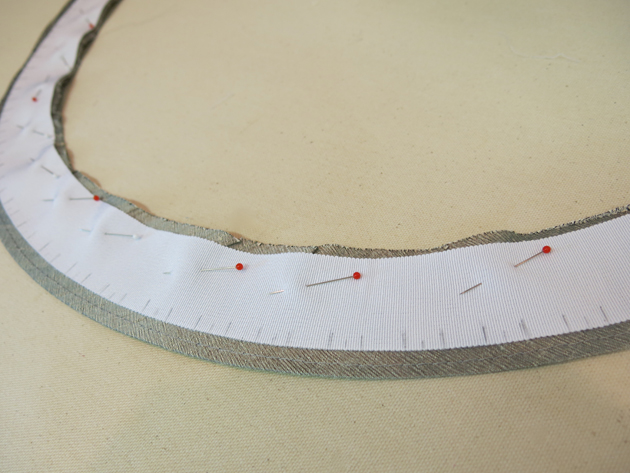 I machine stitched between each mark and then "threaded" and secured each length into the slots…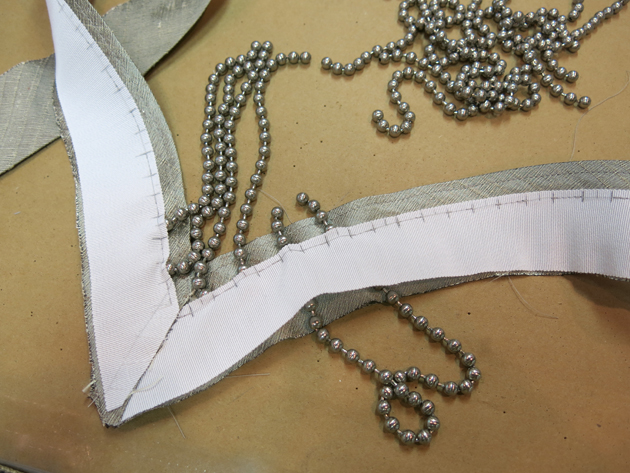 …until they looked like fringe!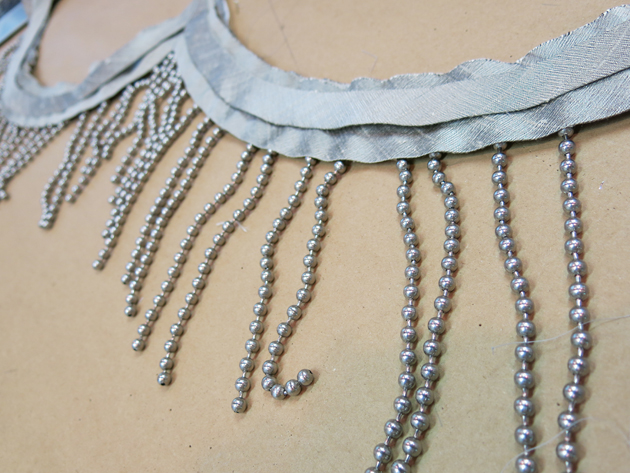 The straps and sleeves were added and all of the trim was basted to the newly draped dress and its foundation.  The side seams were still basted, the trim was just basted, and the overlay's hem was purposely left undone so that adjustments could still easily be made during Loula's Final Fitting!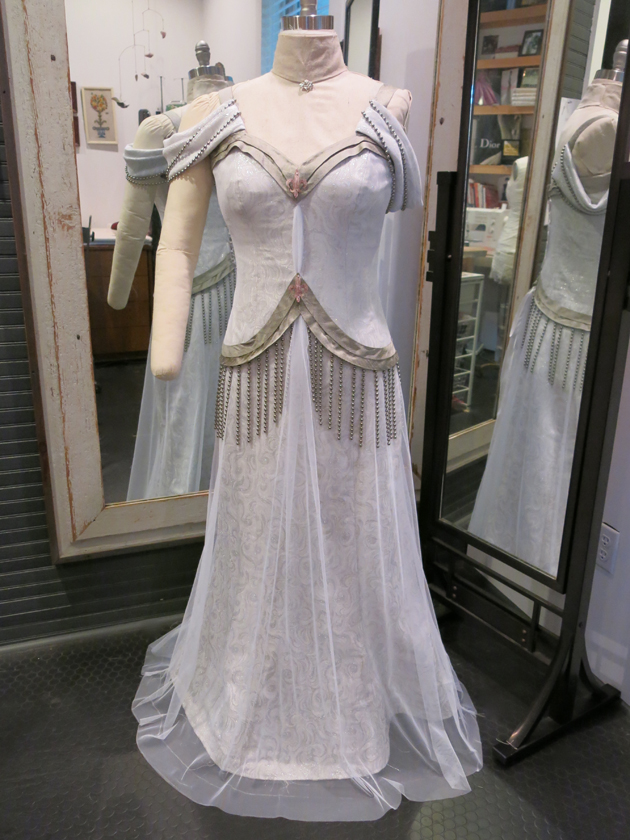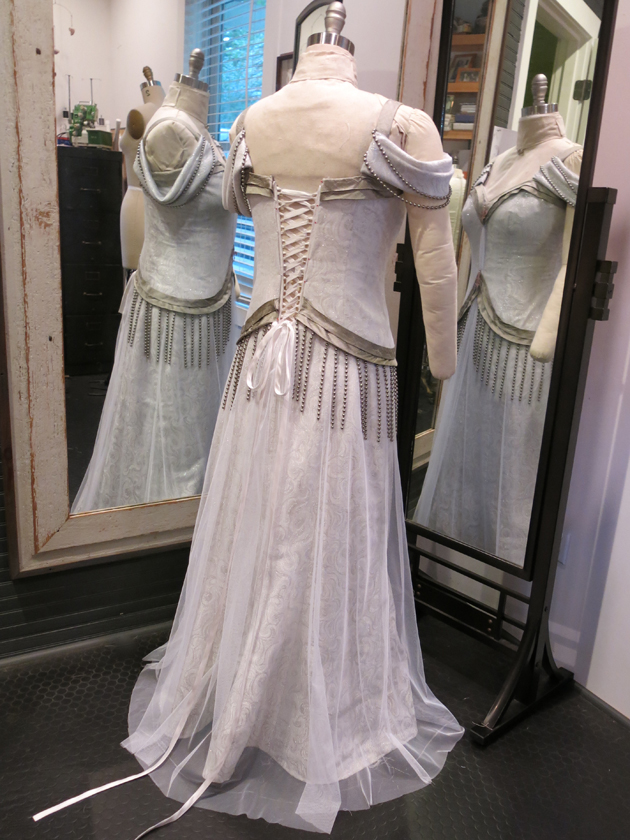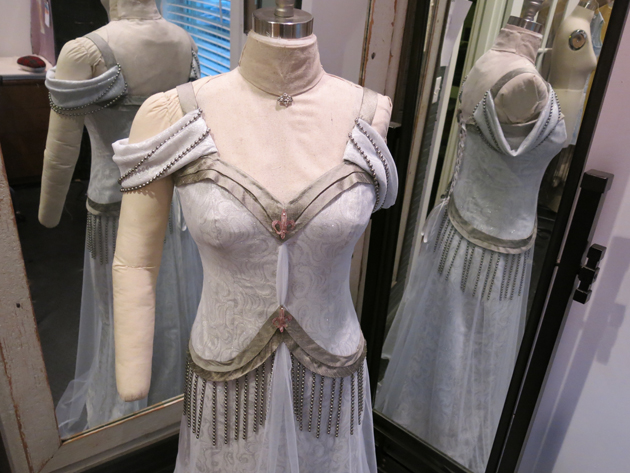 We ordered some fantastic sparkly Fleur de Lis brooches for the centerfronts of the neckline and waistline.  The "jewels" had not yet arrived so I made to-scale photocopies and pinned them to the basted dress in order to send Loula these photos for a little Fitting Preview.  I was so excited that I'd have Loula in my studio again very soon to try on her incredible custom wedding dress for the very first time!
Next post:  Loula's Final Fitting!!!
Never miss a post! Sign up for my email newsletter.