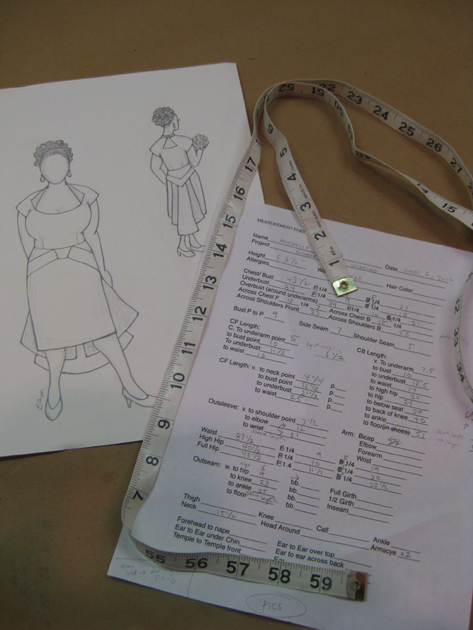 Since my last blog post, Michelle's dress is really starting to take shape.  It seems that when I get on a roll, I forget about blogging!
Once the design was decided, the dressmaking process began when Michelle came over to the studio and I took an extensive set of measurements of her body.  Accurate measurements are imperative to getting a superb fit.  I've created my own measurement chart that works well for me and is much more than just the average chest/waist/hips measurements that are used in ready-to-wear sizing.  Most women's shapes don't fit perfectly into one "size" (aka "size 8"), therefore I don't work in sizes.
I take the bride's very specific measurements and draft my own patterns by hand, rather than buy or work from a pre-made pre-designed pre-sized commercial pattern.  I took approximately 50 measurements of Michelle as well as some body pics in order to create a pattern (and ultimately a couture dress!) for a "size-Michelle".
After that quick meeting, I used the information I gathered at our measurement session to recreate Michelle's unique shape on one of my standard professional dress forms (also known as a dressmaker's mannequin).  I do this by starting with a form that is smaller than the bride and then padding it up using strategically placed strips of quilted fabric.  (I decided not to post a picture of this on the blog, since it is almost like posting a picture of my bride with no clothes on!)  Once I've "sculpted" her unique body shape, I cover it with a neutral fabric.  This just makes the padding smoother, less distracting and more like a real body.
This resized dress form and these measurements are the foundation for my patterning and dressmaking process which are now well underway!