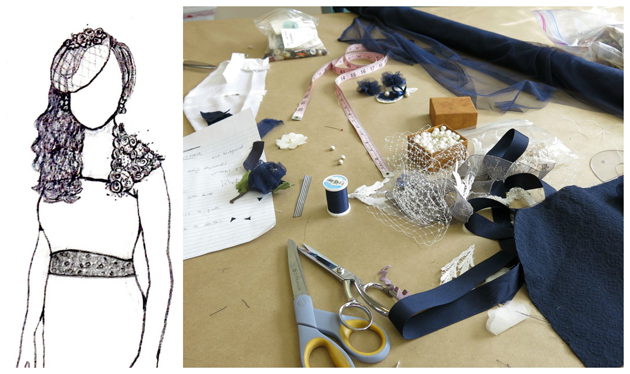 After the design and sketches were approved, it was time to start making Heather's custom bridal accessories! I love how a process like this starts off as a huge mess and then the chaos eventually turns into something stunning and unique.
The creation process started with the bases for both the belt and the shoulder accessory. I cut hymo canvas to the shapes that worked in our mockup fitting, fusing it to the back of the navy cotton brocade.
(In this post, I'll share the process for creating the shoulder piece. In my next post, I'll share how I made the belt, veilette, and bridesmaids' accessories.)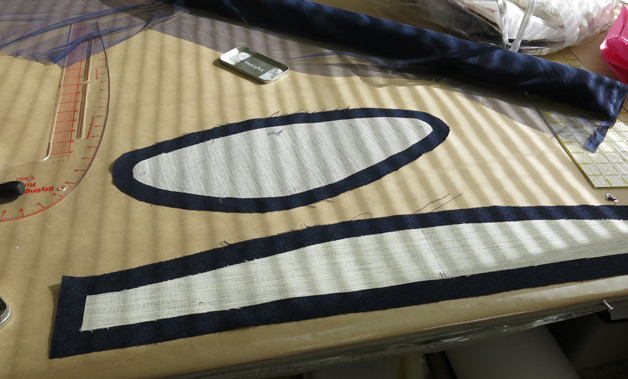 I turned back and cross-stitched my seam allowances to the hymo creating the shape of the shoulder piece. Then I added the asymmetrical trim that Heather loved so much to the edges.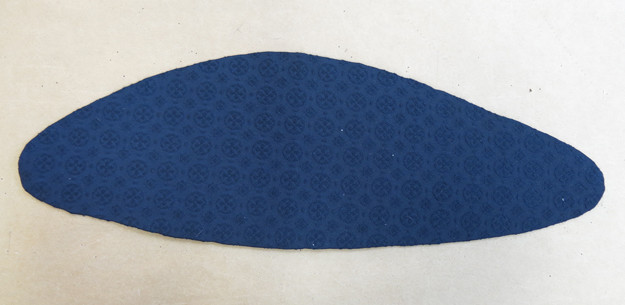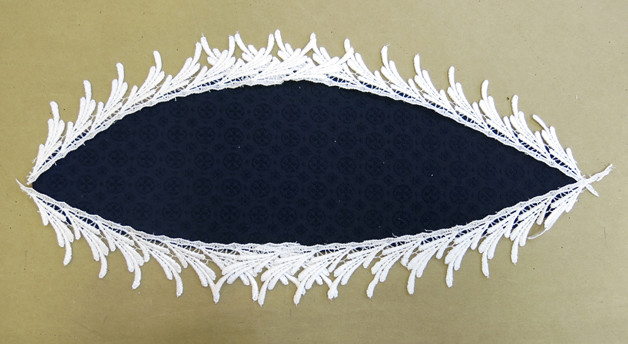 Next, I just started crafting. I made a huge mess creating all kinds of handmade flowers out of all kinds of fabrics and trims and feathers and pearls. One by one, I'd slowly hand stitch them all in place…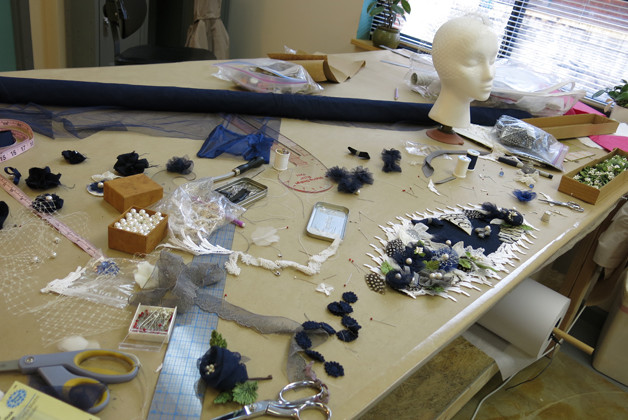 I got so "in the zone" that I forgot to take photos until everything was practically done!
Here's what it looked like from the backside, before I added the lining. Notice all the various hand stitches holding all those flowers and feathers and pearls in place?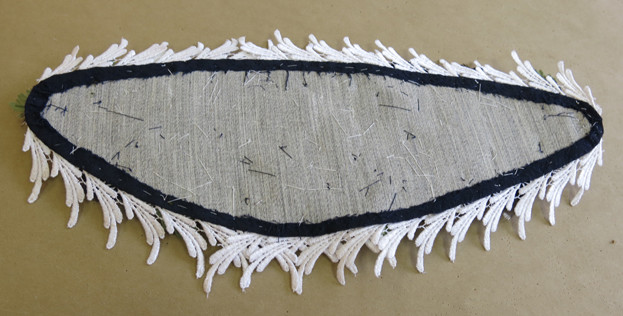 Once it was time to add the lining, the engineering came into play.
In order for Heather to wear this shoulder piece as part of her thrift store dress, I created a system designed to be both effective and comfortable.
Hidden inside Heather's dress, I added two large snaps. These snaps would correspond to two snaps that were added to a soft piece of elastic. This elastic was encased in a hand-stitched channel that I added to the lining of the shoulder piece.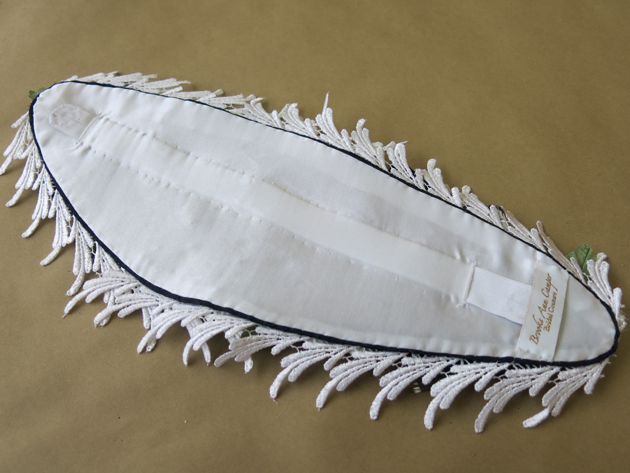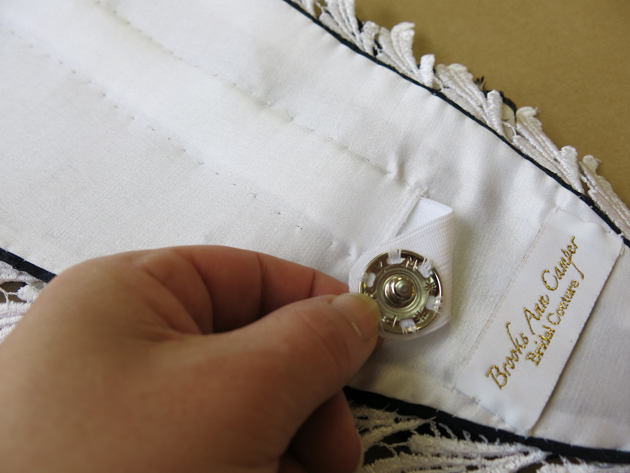 This elastic/snap combo would allow for Heather to be able to move naturally and comfortably without ever having to worry if the decoration would stay in place. It was fit in such a way that the decoration hugged her shoulder and moved freely as she moved. It was essentially a very well organized bra strap, featuring a very unique decoration!
Heather would also be able to easily take this shoulder piece off, if she wanted a sleeker look as the night progressed.
Here's a few candid shots I took as I was adding the finishing touches…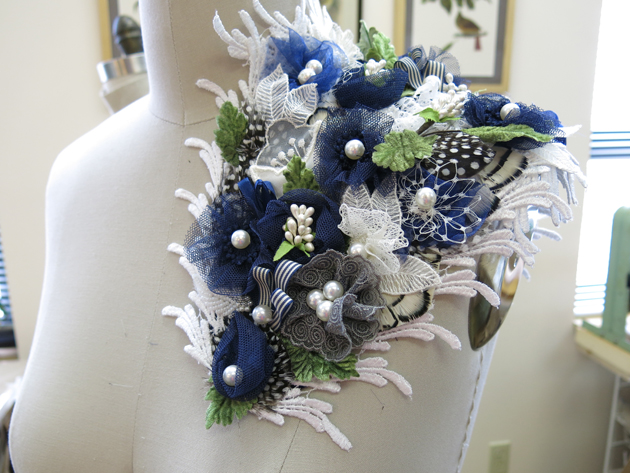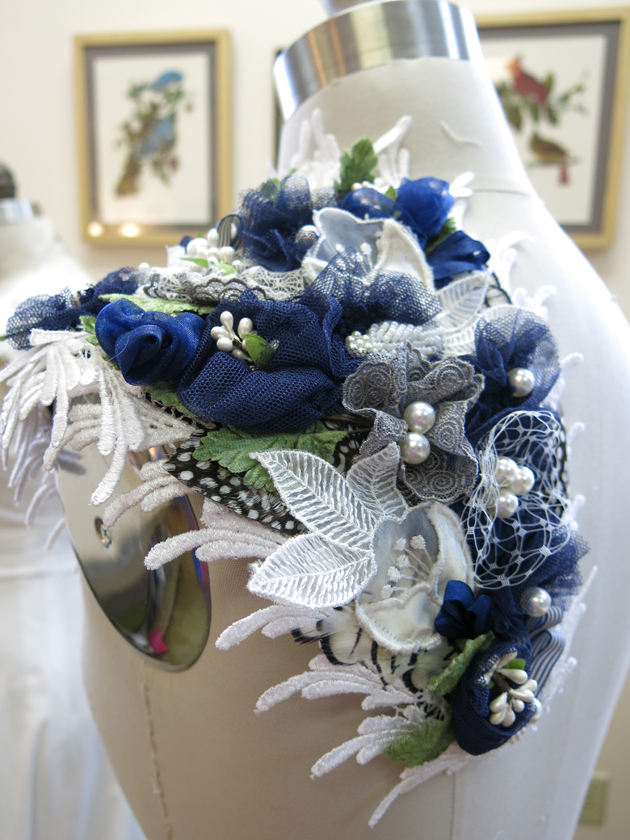 This would definitely take Heather's plain thrift store dress to another level! I couldn't wait to share this unique and artistic statement piece with my unique and artistic bride!
NEXT POST: I'll share the creation process for Heather's custom belt, veilette, and bridesmaids' accesories!